The setting: America's schools- for kids ages seven or eight and older, with a limited recess time to play, the traditional playground may not keep their interest.
Forget "slides, rides, and manipulatives." Kids with portable battery-powered GameBoy ® computer game boxes in their backpacks do not find their interest riveted by tic-tac-toe, spelling panels, or driving wheels on play equipment. Tire swings and merry-go-rounds also don't hold the interest of older kids. Nor do slides offer much challenge to this age group.
These kids want "CRC' Challenge, Risk-taking and Competition. They are beyond parallel play; they want interaction. Forget fantasy play; they want reality activity.
There are new activity structures that provide a variety of challenging events that are proving popular for school yards. Some schools, recognizing the need of kids this age to feel "grown-up" no longer refer to the school playground, but all the outdoor play area the "school yard" instead. Playground equipment, which these kids identify with younger children, are being by-passed for new activity apparatus.
What seems to be successful has been an emphasis on various upper body, climbing, balance, and other skill devices. But wait- this isn't a fitness course with exercise stations positioned at various locations along a jogging or running path. This is a continuous action, progressive challenge concept usually contained on a single or somehow linked structure. These systems often incorporate the strength-development principle of cross-training by linking upper body devices to balance/coordination devices to climbing devices in a variety of sequences and arrangements. Some designs use a central elevated platform structure with several linear activity appendages radiating from it, like a huge starfish. Other designs omit the central platform and have the linear activity units connected together like a giant geometric pattern made of matchsticks when viewed from above.
One of the most intriguing designs I found is in New Zealand, another country that has adopted ASTM F-1487 and the CPSC Handbook for Public Playground Safety as part of its national playground safety standard. Conceived by Kiwi innovative designer Kevin McFadden, this activity structure offers opportunities for continuous, non -stop motion with a sequential series of skill devices so that kids can use every item without reversing direction or ever dropping off the apparatus onto the ground. There are no starting and ending points to the activity circuit. The course changes between devices that develop upper body strength, arm and leg muscles, gripping ability, balance, eye and hand coordination, and rhythm. The circuit has "shortcuts" and alternatives to more difficult events so kids can select their own challenge levels. The activity components are sequenced so that first one muscle group or competency is used, followed by another so that kids do not overwork just one set of muscles and become so tired that they are not able to go on.
The activity structures, which McFadden calls "senior playgrounds'' are no-nonsense.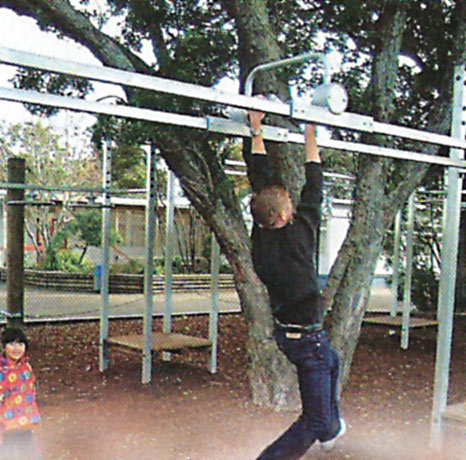 Above, the crank wheel on this New Zealand play-ground offers all three elements children need in a play structure: challenge, risk-taking, and competition.
They are Spartan in appearance, constructed of galvanized or powder -coated heavy-duty steel and natural number one grade treated New Zealand, Radiata Pine. McFadden uses a two meter (approx. 6-1 /2 feet) use zone at a depth of 300 mm (11.8 inches). Upper body devices include sets of elevated-stationary hand rungs offered in a variety of movement and use patterns; an array of suspended handgrips called a trapeze ladder; single and double -track suspended hang gliders; overhead hand cranks (the ultimate challenge); and a long U-shaped glide track which requires kids to use well-timed rhythmic back-and-forth body swings to slide over the entire track, around two curved right angles, and two long straightaways. This obviously isn't just a typical track ride to be completed with a single push; kids must be able to hang on and determine how to advance along the suspended glide track over a distance of almost thirty linear feet without dropping off.
Climbing frames are designed to channel users across the structure sideways, not vertically, and are kept at a safe maximum height. Each climbing frame can be traversed at several horizontal levels and different hand/foot reaches to provide a graduated challenge.
Balance devices, with appropriate hand grasping rails or cables, include suspension bridges ("Burmese Bridges"); stationary, spring-loaded or suspended beams; a bridge of suspended individual stepping blocks or logs; low cable walks with either parallel horizontal hand grasping cables or a series of separate suspended vertical cables, and a series of circular foot sills on rotating vertical poles.
In America, the composite playground structure compresses many play components into a compact space. McFadden's activity structure is opened out and has a more spacious look. The closed circuit design permits installation around mature shade trees and on unlevel sites.
Kevin McFadden, a leader in playground design in New Zealand, has designed the "senior playground" which increases interest in play by older children.
McFadden 's "senior playground" activity structures are designed primarily for school yard installations in New Zealand, where kids develop physically during recess and other free-activity periods and enjoy it instead of being forced to do group fitness exercises or calisthenics. Besides being a very popular way of having fun at school for his age group, there are some preliminary quantifiable evidence of ensuing physical benefits. Six to eight months following installation and regular use of one such activity structure in the school yard, the principal at Wai Takere School reported a marked increase in students' ball throwing for accuracy and distance, as well as swimming. She attributed the increased proficiency in these measured physical performance tests as the results of the kids' enthusiastic enjoyment of the activity structure instead of older traditional playground equipment.