A potentially fatal act of vandalism shocks Canadian town
Erica Wheeler is too young for what-if's. At age seven, she has already moved past the playground prank that could have ended her young life. Like most children, Erica lives in the here and now. The past is for mom and dad to worry about.
Unlike their happy-go-lucky daughter, Glenys and Ross Wheeler aren't too young for what-if's. They know exactly what would have happened if Erica hadn't been able to free herself from the rope someone had hung on the top bar of a playground slide directly in the path of a young, eager child.
"I don't know what we'd do without Erica," Glenys says. "She's our only child. We'd be devastated.
"This rope will never be thrown away," she adds, running the piece of nylon through her fingers. "I take it out, open it up, and wonder what kind of fool would put this on a slide that's used by children."
Erica's last visit to the unsupervised municipal park near her home in the western Newfoundland community of lrishtown-Summerside started innocently enough. It was a brilliant summer day and as the babysitter tethered her dog's leash to a nearby pole, Erica headed for the slide just as she'd done hundreds, if not thousands of times before.
"This rope will never be thrown away," she adds, running the piece of nylon through her fingers. "I take it out, open it up, and wonder what kind of fool would put this on a slide that's used by children."
After she'd secured the leash, the sitter turned around expecting Erica to be at the bottom of the slide. Instead, she found her dangling on the slippery plastic.
"Erica was stopped in mid-slide," Glenys says. "She was gagging and grabbing at this rope, trying to get herself out of it. My girlfriend couldn't reach her from below because it's a spiral slide, and she couldn't reach her from the top."
Luckily, the rope had caught on Erica's ear and wasn't completely around her neck. She was strong enough to pull herself to the top of the slide. The babysitter removed the rope so that it would no longer pose a threat.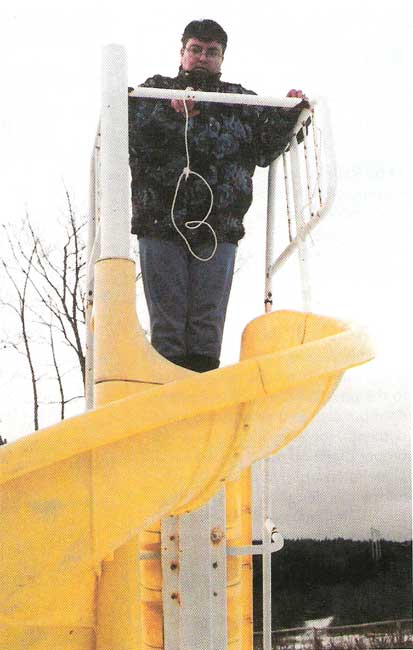 NO SAFE HAVEN
We all want to believe playgrounds are sacred grounds. A place where children can be children. Where they can kick up their feet and reach for the clouds on a swing, or be the king of the castle on the monkey bars.
Yet a survey by Safe Kids Canada last spring found that nearly two thirds of parents named "stranger danger" or harm from other children as their biggest concern when their kids go to the playground.
"There's more to this than a piece of rope left on a slide," Glenys says. "Broken beer bottles have been found half buried in the sand at the bottom of the slide. Put there with the jagged edges sticking upward.
"The sad thing is that a lot of kids come down these slides headfirst."
The playground where Erica was injured used to be a haven for families living in the town of between 500 to 600 residents. Twenty-five years ago, Ross worked there as a lifeguard. He remembers when so many families used the facility there was barely room for the kids to play.
Today it's a different story. The slide is sturdy and in good shape, but the swimming pool has been condemned. The wooden teeter totters have long since been used as firewood. Things have gotten so out of hand the town council was finally forced to close the park.
Because it was built in a secluded area, it's a popular hangout for teenagers, says Glenys who believes the rope was put on the slide as a joke.
"Someone probably said 'Let's do this and see what happens'. Well, you can play your jokes anywhere, but beer bottles buried in the ground and a hangman's noose hung on a slide are no joke."
Although the Wheelers called the local detachment of the Royal Canadian Mounted Police, no investigation into the incident was completed.
"The police asked if we knew who did it, and if Erica was OK," Ross says.
"They said for us to let them know if we heard anything because there was nothing they could do."
STILL IN SHOCK
Although months have passed, Glenys easily calls to mind her reaction to Erica's incident -- fear, shock, anger, even sadness. "I wanted to tear the slide out of there," she says."A playground is supposed to be a safe, happy place for children to play, but when a child gets hurt ... that's not right."
Although the incident had no lasting physical effects -- Erica did not need medical treatment -- she's now more cautious when she plays outside and hasn't been back to the park. Neither have many of the other local children.
Many of the adults agree it's just not worth the risk. "I don't think I can let her go anywhere without either myself or my husband," Glenys says.
"It's pretty bad when you have to check a playground before your child can use it. When you have to rake up the sand to see what's there. To check the slide to make sure there's no noose hanging on it."
To keep others from being hurt Glenys went to the media with the story, and she isn't shy about bringing it up. "Erica was very lucky," she says. "Someone else might not be. People were amazed that this happened. I was amazed that this happened. Now I believe you have to check everything in a playground. It's not enough to trust that the slide or the swings are safe for your children to play on."