Playground manufacturer teams up with kids around the world to bring smiles to less fortunate countries
he cheerful cries of children at play can be heard at yet another location across the globe. Children in Trinidad and Tobago were thrilled with the new playgrounds that were installed in three local neighborhoods, thanks to the efforts of Kids Around the World and GameTime. 
The two organizations partnered together in previous years to install children's play systems at such locations as Bosnia, Vietnam, Cuba, Venezuela, Ghana, and others. "We have changed the landscape in many countries. In Cuba, we took a neighborhood dump and turned it into a beautiful park with trees, flowers, and grass. In Vietnam, we took a deserted sand pile and created a park with benches, picnic tables, and a volleyball court. In war-torn Bosnia, we took an area once used for fighting and made it a safe, colorful park for kids and adults alike," said Al Cooper, spokesperson for Kids Around the World.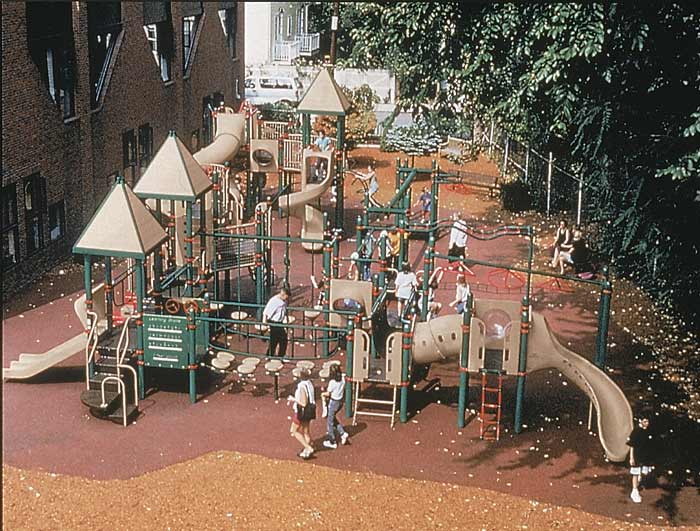 Although playgrounds constructed by Kids Around the World vary in size, the organization often attempts to include an array of physically challenging equipment. Playground manufacturers must bear in mind the need for equipment that will encourage the physical, mental and social development of children. "The installation of these play systems is something special. Playgrounds are either relatively simple or nonexistent in many locations across the world," said GameTime Senior Vice President Tom Norquist. 
If possible, at each Kids Around the World playground, 12 swings, 6 slides, spring cars, a log roll, a merry-go-round, a major play structure, a teeter-totter, a volleyball court, and a half-court basketball area are installed. Park benches, picnic tables, and landscaping of the area with trees, grass, bushes, and flowers accompany the installations. This gives the kids and their parents an attractive place to gather, not just for play, but for social events as well. In areas where Kids Around the World has built a new playground, families can often be found enjoying picnics, parties, and the laughter of happy children.
GameTime answered the needs of Kids Around the World and the children of Trinidad and Tobago with a variety of equipment. At two of the locations, Biche and St. Josephs parks, GameTime's PowerScape play systems replaced tired, outdated equipment. A space whirl, several modern galvanized swings, Buck-A-Bouts, 4-seaters, a Taxi Cab and a Race Car Cruisin' Mate greeted anxious players at the grand ceremonies. 
"At each of the Kids Around the World project openings, the pictures speak for themselves.  There was not a square inch available on the whirls," said Norquist. "Often this kind of play experience is new to these children."
At Maloney Play Park, a PowerScape unit, two sets of modern swings, a whirl, and several Cruisin' Mates awaited the children of Trinidad and Tobago. 
The Million Dollar Round Table Foundation provided the grant funding for the project. The Rotary Club of Piarco, local ministry, and media, GameTime and others assisted Kids Around the World and the Million Dollar Round Table Foundation with the projects and installation.