Hip, hip hurray! Summer has arrived, and you want to go outside and play. One of the best places to start is your local playground. Do you know where your closest playground is located? Can you walk to it? Does your playground have monkey bars, slides, swings and other fun equipment? You do not have to be a young child to enjoy going to playgrounds.
When I go for playful walks around Takoma Park, Maryland where I live, I often stop at one of our many playgrounds and take time to enjoy a ride on a swing. There is nothing like the feeling of pumping your arms, having the wind blow through your hair and the feeling of your body as you go back and forth through the air.
Our grandson Charlie has been enjoying swinging at playgrounds since he was around six months old. Recently I got to ride on an expressional swing with Charlie in Charlottesville, Virginia. For those of you who don't know, an expression swing comes in three sizes, the smallest is when a young child is in a swing facing an adult in a regular size swing, like the photo of Charlie and Clarke. The medium expression swing has a mid-size swing facing a regular swing, and the largest expression swing is where two regular swings face each other. Our family friend Clarke also got to go for a ride. Clarke, Charlie and I had a blast swinging and looking at each other as we glided through the air.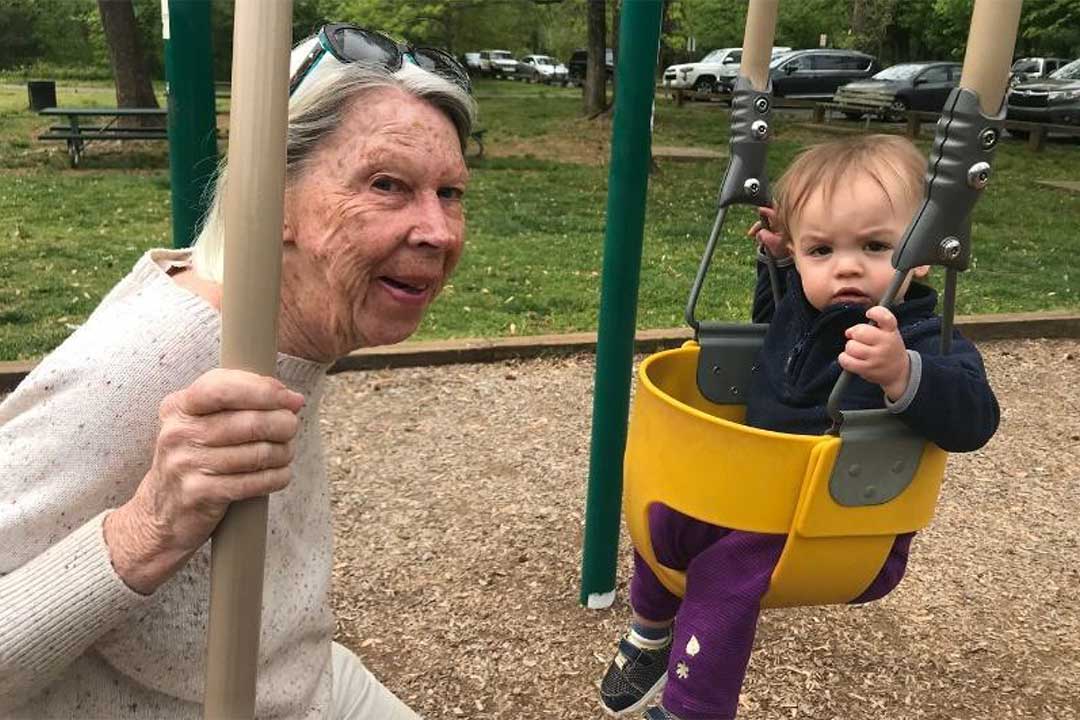 Dr. Stuart Brown, Founder of the National Institute for Play, (www.nifplay.org) tells us that adults and young children experience attunement when they are facing each other and making eye contact, the adult and child are in sync (see Dr. Stuart Brown's book, PLAY, How It Shapes the Brain, Opens the Imagination, and Invigorates the Soul, pages 81-83). The photo of Charlie and Clarke shows them looking up, but when they were enjoying swinging together, they made eye contact, smiled at each other and were having a good time.
These last couple of days I have been listening to the virtual 2022 Free to Play Summit, put on by www.FairyDustTeaching.com. The summit is geared toward early childhood educators. Speakers are experts in from around the world. One of the speakers was talking about loose parts and how when young children play with them, they help develop the child's fine motor skills, loose parts being unattached objects. You can always bring a bag of loose parts to the playground for your child to play. Recently I observed a young child playing with a combination of loose parts on a platform that sat between a swirly slide and a climbing net. This young girl around the age of three had set up her objects, some small toys from home and some natural parts, sticks, pebbles and pieces of mulch. I was chatting with her dad who was holding her baby brother. The little girl was thoroughly engrossed in her imaginative play with her loose parts.
I often walk around another playground that has a large sports field in the middle where people play all kinds of activities, baseball, frisbee, and soccer on evenings and weekends. There are two playgrounds on opposite ends of this park, one is an elementary school playground, and the other is up on a hill that overlooks the field. This park also has a full-size outdoor basketball court, a skateboard area, a sandy volleyball court and a covered pavilion with picnic tables. Near the park is a parking lot with a dog park at one end. I would say this park has something for everyone, including our furry friends.
Do you have a playground in your community with a water feature? In the summer this can be a huge drawl to children and their families, however, be aware that splash and sprinkler features are often not well maintained as to filtration and can cause diarrheal illnesses in children. Across the street from where I play tennis there is a playground that has a mushroom water sprinkler that is super popular on hot summer days. This park has outdoor stationary exercise equipment. I tried some of the equipment and have found it fun to watch kids and adults enjoying the playground while I'm getting my own physical exercise.
This summer you may decide you want to visit some playgrounds that you haven't been to before or for a while. I know I'm hoping to do that in my community and places I visit.  I enjoy playing tennis with family and friends and end up at a playground that with courts and then I like to go play at the playground.
If you are visiting the Washington, DC area and want to go on a Scavenger Hunt at a bunch of playgrounds check out our Takoma Park, Maryland Playground Guide & Scavenger Hunt 
https://www.letsplayamerica.org/takoma-park-playground-guide
My latest children's book, Let's Play Outside shows children playing at playgrounds and outside (photos by Daniel Nakamura) https://www.letsplayamerica.org/books)
I hope you have a fun summer playing at playgrounds. Let yourself feel like a kid again and go for a ride on a swing, hang from the monkey bars or go down a slide. As my good friend Roberta says, "give yourself permission to play." (Roberta as a child below.)