Now in its fifth decade, Storyland is a New Orleans tradition
Bennett Jackson has the place all to himself and he's making the most of it. The 3-year-old rushes from Captain Hook's ship to Old King Cole's castle then dashes off for a trip down the dragon slide. With his tiny tongue piercing his lips, an extremely focused Bennett continues on for a quick trip in Cinderella's pumpkin carriage and then races over just in time to make the blastoff of a mock rocket ship. It's a magical journey that lasts all of 10 minutes- quite possibly a Storyland record.
Composed of over two dozen storybook exhibits, Storyland will normally hold the interest of a child for hours. Unfortunately for Bennett, he and his family made the two-and-a-half hour journey from Mobile, Ala., on a winter day in mid-February when the attraction was closed down. But his mother, a native of New Orleans who used to frequent Storyland as a little girl, was so determined that her son have the same experience that they managed to slip through the gate without being seen. Once they were discovered, the park employee on hand initially started to shoo the Jacksons out. But after hearing of how far they'd come and how much Bennett's mother loved the place, she quickly softened up and accompanied them on their whirlwind visit around a piece of New Orleans history.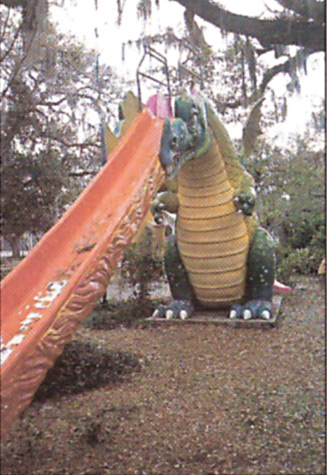 Nestled inside of the Big Easy's massive City Park, Storyland was constructed in the 1950s and heavily renovated in 1985. That means that generations of children have experienced the joy of make-believe within its walls. "We see them all the time," says Bill Cangemi, who has worked at
Storyland for the last 14 years, "people that grew up in New Orleans who took their kids to Storyland and now their grandkids. And people that moved away and want to come back and see it again."
Rated one of the 10 best playgrounds in the country by Child magazine in 1992, Storyland is truly unique in comparison to modern playgrounds. The sculpted characters were created by Blaine Kern, Jr., regarded as one of New Orleans' greatest builders of Mardi Gras floats.
Children can pay a visit to the inside of a whale- just like Pinocchio did- or find out what it was like to have a mother who lived in a shoe. The Little Mermaid sits perched atop a rock in the middle of a fountain, and Mother Goose can be spied flying amongst the massive oak trees that tower over the entire area. And should a child come at the right time, they may be treated to a puppet show presented by Cangemi.
"I'm the day-to-day operations manager as well as the puppeteer," he says. " It sure beats having a real job."
The shows, which last about 10 minutes, tell a fairy tale or a folk tale and are geared towards preschool and elementary age children. With kids exposed to computers and eye-popping special effects these days, the puppet show has become something of a lost art.
"What's neat about is that they have to use simple imagination and just accept for a few minutes that these things are alive," Cangemi says.
The lure of puppets and play help draw over 30,000 kids to Storyland each year, and parents are more than pleased to pay the $2 per person admission fee. After all, for many of them, it's a special place for them as well.
"I think it's just that desire to be a kid again," Cangemi says. "They can relive their childhood through their children and their grandchildren every time they bring them here."