After the concept and budgeting phase, you'll want to think about safety surfacing, shelters & shade along with your parking and restroom needs. 
When planning for your park or playground, it is always important to know who your audience is.
It's easier to anticipate who your audience will be when building a school playground. Teachers and school administration already know what ages and abilities they need to accommodate.
For a public park and playground, you need to know and plan for the community that will be visiting and using it. Plan not only for current age ranges but also future age ranges. Plan it so that it meets the needs as the neighborhood children grow up. This can be extremely important when planning for smaller, neighborhood playgrounds.
We hope this post helps as you start to evaluate your park and playground project, enabling you to ensure a successful outcome.
Choose a Surfacing Option That Meets Your Site's Safety Needs
According to the Consumer Product Safety Commission (CPSC), almost 70% of all injuries on the playground are from children falling. A fall onto a hard surface, such as concrete, blacktop or packed earth can cause serious injuries, so the surfacing under and around playground equipment is an extremely important safety measure that can greatly diminish the chance for injury.
When planning for your playground's safety surfacing, there are two types of surfacing to consider – loose fill and unitary.
Loose Fill Surfacing
This includes Engineered Wood Fiber (EWF) and rubber playground mulch. EWF looks similar in appearance to landscaping mulch, but it is specifically designed for use as a playground safety surface.
Pros for Loose Fill Surfacing     
Provides excellent fall protection.
Typically, less expensive.
Cons for Loose Fill Surfacing
The loose material makes it more difficult for a child with a mobility device to maneuver in.
Playground activity causes the loose surfacing to get displaced so it requires more frequent maintenance tomeet guidelines. For instance, it may need to be "topped off" to ensure the correct depth for compliance standards.
In addition, EWF mulch naturally decays, which requires it to be replenished over time.
Unitary Surfacing
Unitary surfaces are smooth, seamless, uniform surfaces including Poured-in-Place (PIP) rubber, Interlocking Rubber Tiles and Synthetic Grass with fall attenuation padding.
Pros for Unitary Surfacing
Provides much better access for children who have a mobility impairment – these surfaces are easier to roll or walk over making it a great solution for accessible playgrounds.
Far less maintenance is required and they are typically playable in almost any weather.
There's no displacement of the surface so it won't get "kicked out" at the bottom of slides or under swings.
Poured-in-Place surfacing is available in a wide variety of colors, shapes and designs.
Synthetic Grass surfacing brings a natural appearance to playgrounds.
When installed properly, unitary surfacing can last 10-15 years, which can sometimes offset the initial higher cost vs. loose fill surfacing.
Cons for Unitary Surfacing
Typically, there is more infrastructure needed, such as a concrete base, to ensure proper installation and product performance.
More expensive initial outlay due to the infrastructure needed along with the cost of the materials.
There are many additional factors to consider when choosing the best surfacing option for your playground: budget, ability to maintain proper depths, site accessibility and surfacing borders to name a few.
Bottom line: No matter what option you choose, it must be ADA compliant.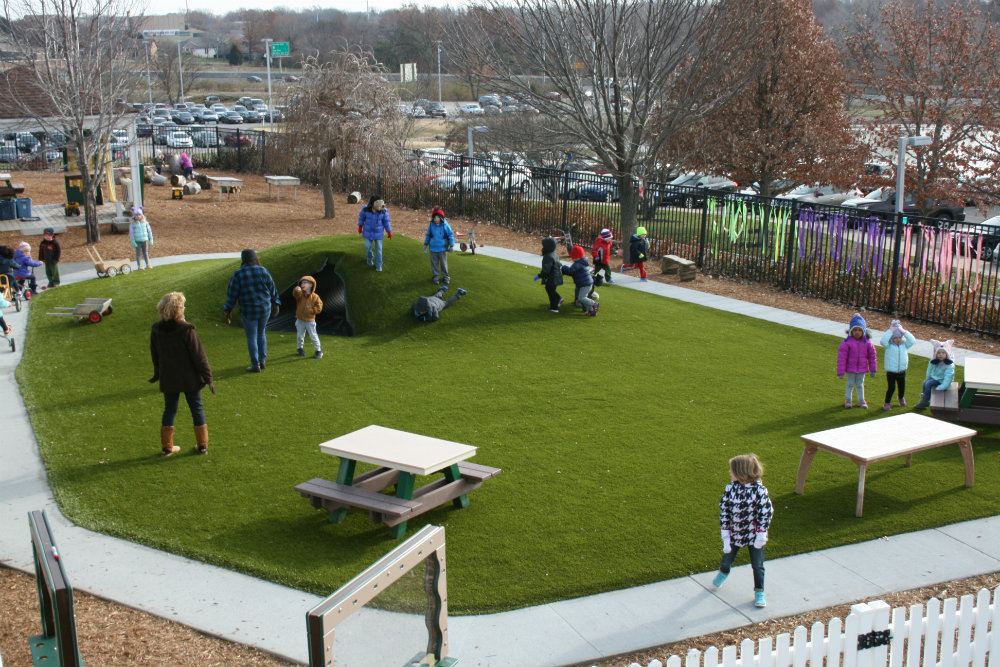 Project: Security Benefit Child Care Facility
The Consumer Product Safety Commission (CPSC) and American Society for Testing and Materials International (ASTM) provide specific guidance on suitable surfacing material usage depending on the fall heights, sub base composition, and intended age range for users of the playground.
Drainage: Another Safety and Compliance Factor
"No matter what surfacing is chosen, if the playground surfacing does not drain well and becomes water logged, it will ruin the fall attenuation ability of the surface."
Austin Meyers, ForeverLawn Kansas City General Manager
Good drainage is absolutely imperative. It is a critical part of keeping the playground equipment and surfacing in proper working order, safe and usable.
Standing water causes the play equipment to age and deteriorate before its time. It can compromise the structural integrity of concrete footings and rust can shorten the life of any metal. It allows molds and mildew to grow and attracts unwanted insects like mosquitoes. The surfacing may not have the impact attenuation it was designed for.
Other factors to be aware of:
Topography. Is there enough slope to safely move water aware from and out of the play area?
 If the soil doesn't allow water to pass through easily, a drainage system may be needed.
Are there other nearby structures that may have a gutter causing run-off to flow into the playground?
Take a look at the surfacing work done for Lee Elementary...


Stay Cool & Comfortable by Adding Shades & Shelters
Shade is always an important consideration for the playground, especially in the hot summer months. Oftentimes, this element is overlooked. Some things to think about include:
What times of the day will the playground be used the most? For example, is it a school playground that will be used mostly during the middle of the day?
Is the playground in a neighborhood park where use is more seasonal and after the school day?
Is there any natural shade from trees available to take advantage of?
It is also important to orient the play equipment in such a way to try and keep surfaces as cool as possible. Shade structures are for more than rest areas; they can also be used on the actual play equipment if no shading is available by other means.
A good play consultant will help you lay out the play equipment on the playground, taking into consideration orientation for access, drainage, heat, and other factors.
Types of Shade Structures
There are two basic types of shade systems – fabric shade structures and steel or wood structures.
Pros of Fabric shade structures
Less expensive.
Fabric colors and flexible design options offer a variety of looks to fit any space with a contemporary look.
Good option for providing shade directly over a play structure.
Cons of Fabric shade structures"Wood and steel shelters come in all sizes and can be customized for just about any aesthetic desired. In addition, there are many amenities that can be added including restrooms, concessions, a fireplace and more to provide whatever is needed for the situation. Many park departments will rent out shelters to patrons which helps offset the cost of the shelter over time."- Ben LaBarge, Cedar Forest Products Owner
Actual fabric of the shade structure must be taken down for the winter season or the warranty will most likely be voided.
Combination of ice build-up on the fabric and wind can tear the fabric and possibly stress or bend the steel frame resulting in an expensive repair or replacement.
Pros of Steel and/or Wood structures
Minimal to no maintenance needed.
Looks great for many years.
Can be styled in almost any size with features and amenities to fit the look and needs of the space.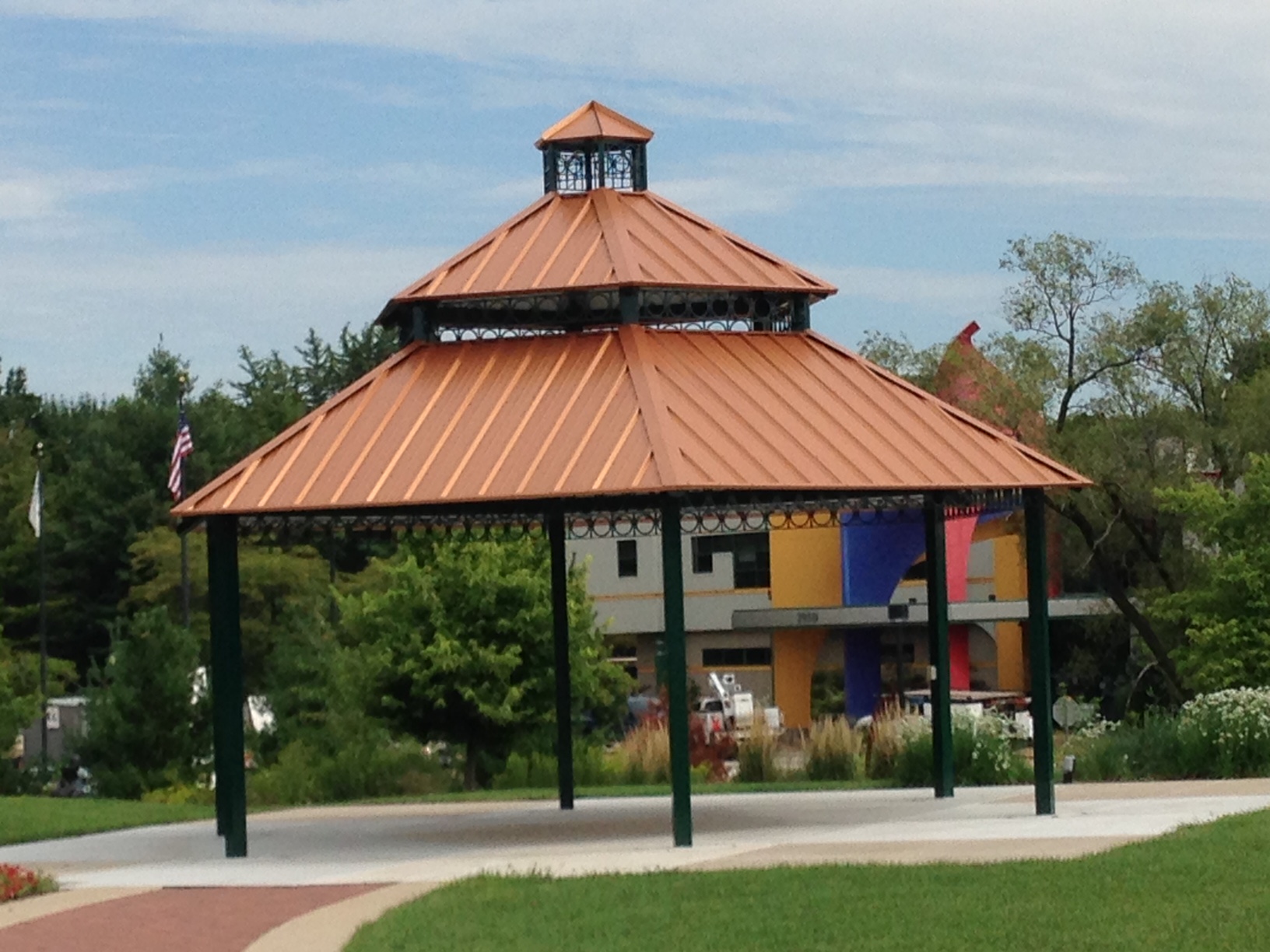 Project: Shelter House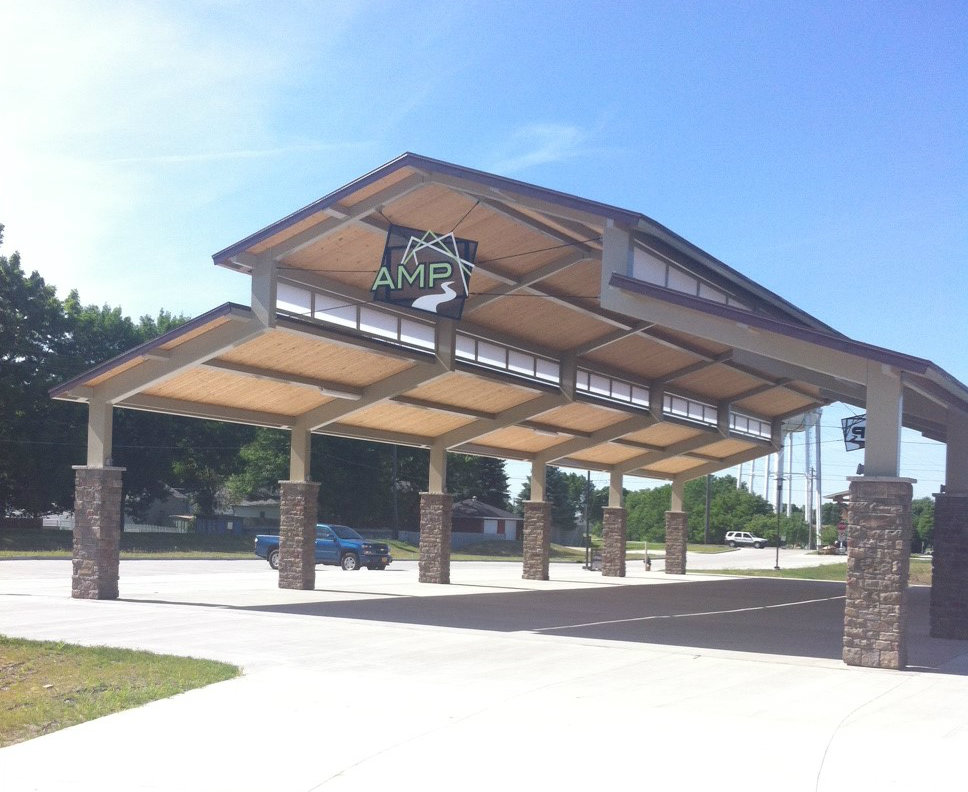 Project:Farmers Market Shelter
Parking Considerations
Once again, it's important to know your audience the playground will have. Parking and restroom access is typically not an important consideration for a school playground. But for a public park and playground, you want to plan for the community that will be visiting and using it.
How many accessible parking spaces will be needed? Of those, how many need to be van-accessible?
Do the accessible spaces connect via the shortest possible accessible route to the park, playground and other facilities?
Do the accessible parking spaces need to serve more than one accessible entrance to the park, playground or other facilities?
There is no requirement that a restroom be provided at public places such as outdoor parks or a group of ball fields. Oftentimes, it is based on demand. However, to keep the public using the parks, bathroom facilities are recommended.
Restroom Considerations
Is there already a facility in place? If so, does it need to be upgraded?
Would an affordable prefabricated structure meet your needs or would a portable sanitation unit (PSU) suffice?
Is the structure accessible to the park and able to accommodate disabled visitors?
There are many other factors that might crop up with regards to your safety surfacing, shelter, parking and restroom needs. We are here to help you plan your perfect park and playground.
---
Tim McNamara is a Certified Playground Safety Inspector (CPSI) and is a Sales Consultant for ABCreative, a company focused on creating the perfect park and playground for your school and community.