Provides Safety Accessibility And Economic Relief
Over the last several years a variety of products have become available for playground safety surfacing. These include poured-in-place rubber, tiles, mats, rubber mulch and the like. Though all of these products are well suited for their intended use, they are often times cost prohibitive when given the large areas they must cover at the average commercial playground. For this reason, a good alternative product, which has been in use prior to the introduction of manmade surfacing products is engineered wood fiber. Unlike wood mulch, which is produced primarily for landscaping purposes, engineered wood fiber is manufactured for the intended purpose of providing a shock-attenuating safety surface for use with playgrounds. It is designed to compress and bind together while maintaining the shock absorbing characteristics required meeting ASTM Fl 292 standards. In its compressed state, it also meets the requirements for ADA accessibility.
When considering the use of engineered wood fiber for a playground surface, such factors as the type of equipment, age group, use zone and fall height requirements, drainage, budgetary, and maintenance issues should all be addressed prior to making a decision on its use. Certain applications such as day-care centers, for instance, may prohibit its use because of the tendency for young children to place the wood fiber in their mouths, possibly creating a choking hazard.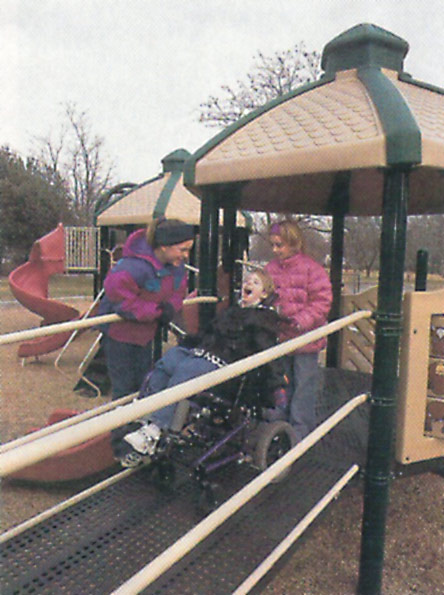 The engineered wood fibers bind together over time and provide wheelchair accessibility to the play equipment.
Once determined that the product will meet the needs of your specific application the next step is to contact the supplier. Any company offering engineered wood fiber for use in playground applications should be able to tell you the depth required based on equipment information you provide, such as the highest point on a play structure that a child can access and possibly fall. Generally, this is given at compressed depth, which is the depth of the product after settling and compaction. You should also request test results and a certification from the company verifying their product meets current ASTM and CPSC guidelines.
The method of installation of engineered wood fiber is much easier than other types of surfacing. The material is delivered by trailer or dump truck and can be spread without any special skills. Professional installation companies may use equipment such as front-end loaders, although manpower is all that is absolutely necessary to perform the installation. However, it is important to have someone who is knowledgeable concerning playground construction and is familiar with ASTM and CPSC guidelines determines the use zones or footprint of the playground in relation to the equipment. If the equipment is a new installation the use zones will be documented in the installation and maintenance manuals.
Unlike unitary surfaces such as poured-in-place rubber and tiles, engineered wood fiber is a loose-fill material, which requires the use of border timbers or panels for containment. This can be achieved either by installing the border on grade or by excavating and installing below grade. Although installation above grade is the easier option, the issue of handicap accessibility comes into play. An opening must be provided to allow a wheelchair to enter and the opening must also be ramped. This increases the amount of room required for the play area and also presents a problem with the containment of the surfacing. By installing flush with grade the problem of access is eliminated providing the depth of the surfacing is maintained within the playground area and an access route to the playground area is provided.
Since engineered wood fiber is both a loose-fill material and a natural product, the maintenance requirements vary from those of other surfacing materials. Factors such as weather, playground usage, and type of equipment all need to be considered when determining the frequency of maintenance of the surface. High traffic areas in the play area and certain types of equipment, such as swings and slides generally require more maintenance than do other areas. An observation of the use patterns of the equipment and close monitoring of this type of surface is critical to ensure the surface stays at its required depth. Material must be added when the amount of surfacing falls below the required minimum compressed depth needed to meet the fall height requirements of the equipment it surrounds. A weekly ranking of the surface will help even out areas that tend to mound up or lose depth such as those directly under a swing where children drag their feet.
It is not advisable to use mechanical means such as a tiller to break up the surfacing, as this tends to further break the wood fibers, which decreases its ability to bind together and also accelerates decomposition of the product.This can also create an issue with accessibility as the product must again settle and compact before it can be considered ADA accessible. As you can see there is no one cure-all product suitable for every application, however, close attention to specific conditions and variables at your site will ensure the best and most cost-effective product.
By Tom Di Lacqua