The spring of 2020 brought the word "pandemic" out of the history books and into current events. What had once been associated with the bubonic plague was now a reality facing our families, changing our day-to-day lives in ways once unimaginable. But prior to the coronavirus, many epidemiologists raised the alarm about another pandemic facing our country - an epidemic of inactivity.1  So, 2020 added a pandemic (COVID-19) within a pandemic (inactivity).2
The Centers for Disease Control and Prevention recommend children get 60 minutes a day of moderate to vigorous physical activity.3 Yet prior to COVID, teens were already in front of a screen almost 8 hours a day,4 and preschoolers watched TV about 4.5 hours a day.5  Since the pandemic-related restrictions, studies have shown a further decrease in physical activity with a corresponding rise in screen time, leading to only 1 in 5 children meeting physical activity guidelines.6  What does this mean? Kids are sedentary more than they are active. 
The thing is, children love to move. We know this by the sounds they make when they play in a big physical way: they scream in excitement, they call loudly to their friends, they laugh and sing. With every new way kids move, they build strength, skills, and movement patterns. They also build their brains and lay the essential neural wiring that will help them find success. So the pandemic of inactivity has a two-fold effect. Children's bodies are not as strong as they should be, resulting in a deficit in movement-based brain development. Simply put, their bodies are not moving so their brains are not growing.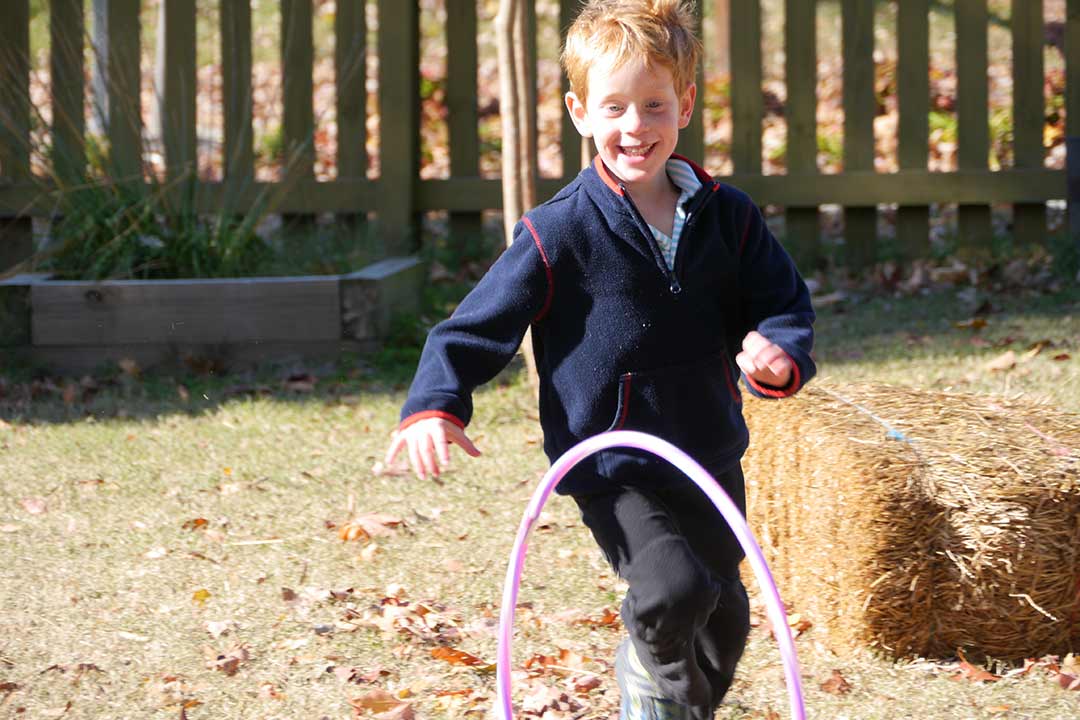 Physical activity takes practice. Children who do not master basic gross motor skills because they have not spent enough time in physical play will lose interest in play altogether and find excuses to sit out. When they do, their peers gain skills and the physical ability gap between the active kids and the sedentary kids widens. 
To combat that gap, we need to help children rediscover that love of play so they can build strengths to help them feel confident in their physicality. That confidence fuels a desire to tackle new physical skills, building even more confidence - a positive feedback loop based on play. Once we get kids moving through play, having fun, and finding success, we can address the deficits we see in essential skills and strengths. 
The foundational strength children (and adults) need is core strength. It is the platform upon which all other strengths are built. Sadly, children's core strength is lacking. A 2019 study out of England showed that a ten-year-old's ability to perform a standard sit-up test fell dramatically between 1998 and 2008. During this period sit-up measurements fell 2.6% a year, followed by further erosion between 2008 and 2014 where the measurements fell 3.9% a year.7
A strong core means smooth movement and controlled appendages, affecting both gross motor play skills and fine motor classroom skills. On the playground, core strength allows the arms and legs to move freely for running, jumping, climbing, and skipping. In the classroom, core strength allows children to support their torsos, freeing their hands to work on cutting, writing, coloring, and building. Core strength means children can hold their heads still to read a book or write. They also need core strength to sit comfortably at a desk and attend to a task. When the core is weak, sitting often means wiggling, frequently changing position to find comfort. All this movement makes it hard to listen to the teacher or complete a task. So, often, a child who is fidgeting and distracted is simply not strong enough to sit at a desk.
So, how do we address the lack of core strength in our children? With something simple and free: big body physical play. A playground is a great place to start with plenty of opportunities to swing, climb, cross the monkey bars, go up the slide, crawl through a tunnel, and jump on, off, and over something. In the classroom and at home, we can have children carry or drag heavy loads. They can also crab walk or bear crawl instead of walking. Each of these activities builds core strength in a way children crave - through play. And building this strength will help fuel confidence in their physicality, leading to a continued desire to move, and breaking the cycle of inactivity. 
If we truly want children to find success socially, emotionally, behaviorally, and cognitively, we need to put lots and lots of big body physical play back into their day. This kind of play is the single most important tool in our toolbox for supporting their development and long-term success. If we give them this tool again, we will see an improved ability to attend, focus and LEARN, helping kids gain confidence on the playground, classroom, and life.
1Kohl, H, et al. The pandemic of physical in activity: global action for public health. Lancet 2012 Jul 21;380(9838):294-305. doi: 10.1016/S0140-6736(12)60898-8
2Faigenbaum, A. A Call for Youth Physical Activity. 6/17/21. ACE Fitness Matters. www.acefitness.org.
3CDC: How much physical activity do children need? 5/8/21
4Arenda, Brett. Teens are spending nearly half their waking hours on screens and that can have scary, lasting effects. 10/28/19. Market Watch.
5McDonough, Patricia. TV viewing among kids at an 8 year high. 10/26/09. www.neilsen.com. https://www.nielsen.com/us/en/insights/article/2009/tv-viewing-among-ki…
6Viktoria A. Kovacs, et al (2021) Physical activity, screen time and the COVID-19 school closures in Europe – An observational study in 10 countries, European Journal of Sport Science, DOI: 10.1080/17461391.2021.1897166 (https://doi.org/10.1080/17461391.2021.1897166)
7Sandercock, G. Temporal trends in muscular fitness of English 10-year-olds 1998–2014: An allometric approach. Journal of Science and Medicine in Sport (www.sciencedirect.com/science/journal/14402440). Volume 22, Issue 2, February 2019, Pages 201-205