Saturday, September 24, 2022, will be the 14th Annual Play Day held in the City of Takoma Park, Maryland that borders Washington, DC, Silver Spring, and Prince Georges County. The Play Day takes place at Takoma Park Middle School. This fun FREE play event is planned by our nonprofit Let's Play America and is assisted by the City of Takoma Park's Recreation Department. If you can join us to play you will have over thirty choices of activities to choose from; healthy refreshments are given away and you may end up playing with a new friend, whether you are five or ninety-five. See the Play Day flyer (right).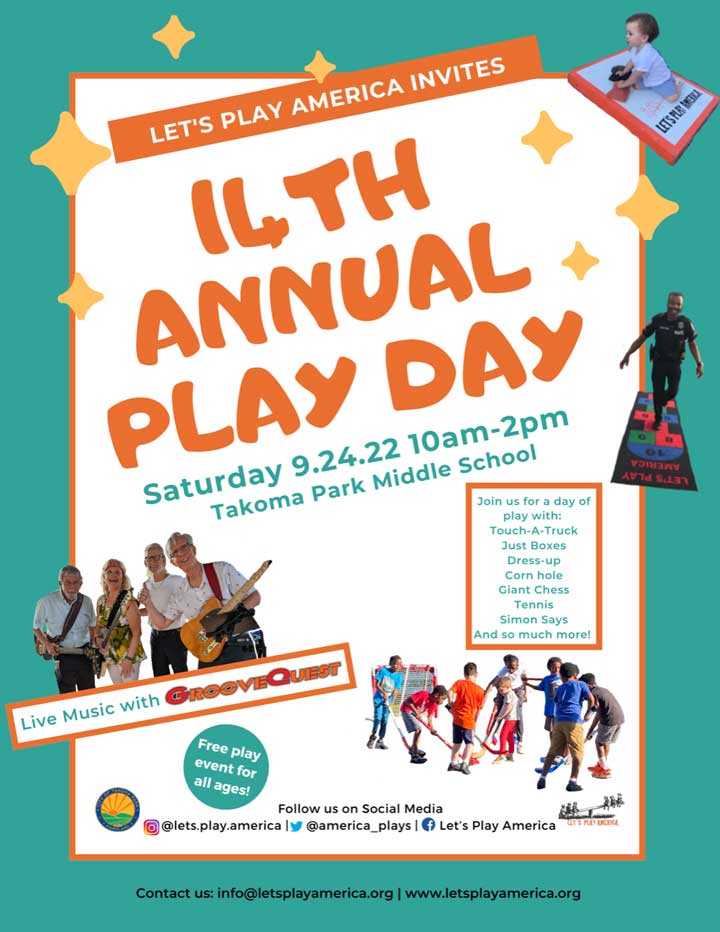 In 2009 I founded a play committee to bring play opportunities to people of all abilities, ages, and backgrounds. I was fortunate that six other supportive and playful folks joined me for that first meeting. After I had asked everyone what they enjoyed playing as a child and what play activities they would like to see offered, I shared an idea for them. The nonprofit www.kaboom.org was naming Cities, A Playful City USA if they applied to hold a Play Day and map their playgrounds. It was unanimous that we do this. I had a date, time and place picked out because our City's Public Works Department was holding a Touch-A-Truck event on Saturday, September 26, 2009, from 10am-noon. About fifty yards away is a playground with an indoor facility called Heffner Playground. I suggested to the play committee we hold our first Play Day at Heffner from 11 am - 1 pm. Our first Play Day and all the others to follow have been a whopping success. We build on every Play Day by asking ourselves: what went well? What can we do better next time? 
On our website http://www.letsplayamerica.org you will find our two Play Day Handbooks we wrote after the Covid virus took over the world. You can order our two Play Day Handbooks by clicking on the link https://www.letsplayamerica.org/handbooks Our first Handbook is for in-person Play Days and our second Handbook is for Virtual Play Days. We held three successful Virtual Play Days. The beauty of a Virtual Play Day is you can play from anywhere around the world. We had Dr. Play from Hong Kong lead Crazy Games. We had participants from Hong Kong and all over the United States join us virtually to play. 
Our 14th Annual Play Day is an in-person Play Day. There are two bands lined up to play. The Takoma Park Community Band consists of adults that range in age and enjoy playing music and giving of their time. It has become a tradition that the Takoma Park Community Band helps us kick off Play Day. Marcia Diehl, the conductor, is so talented that she writes books about learning how to play instruments. Marcia always checks in with me asking if there are certain songs, we would like the band to play. The Chicken Dance song is one I started requesting because Cherwanda Oliver, one of Let's Play America's board members, now has a chicken costume that she wears and leads the attendees and volunteers in the Chicken Dance. Talk about fun for everyone, this is a hoot to see and to participate in at Play Day. Groove Quest is the band that will keep Play Day lively throughout the day. Lisa and Steve, the singers with two other guys that accompany them. Groove Quest played for our Adult Play Day in June and so many people enjoyed their performance that they told me we need to ask them to play at Play Day.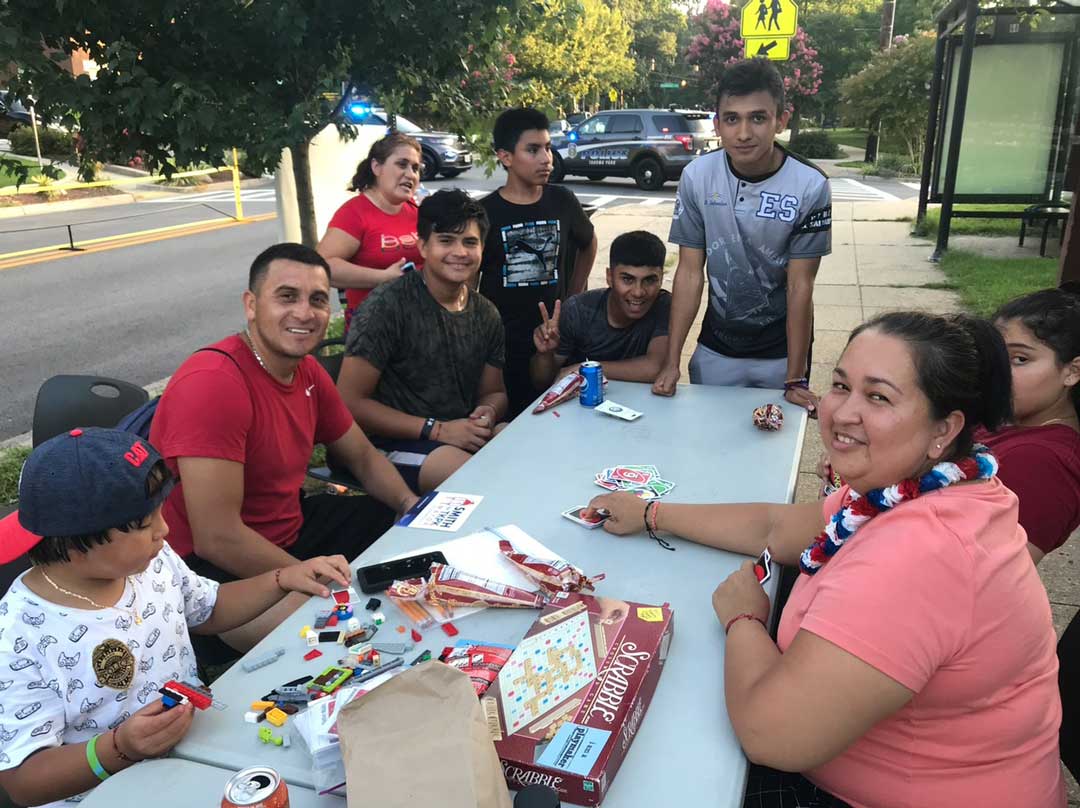 In Montgomery County in the state of Maryland students from grades sixth through twelfth are required to do community service of a total of seventy-five hours over seven years toward graduation. Of course, students are welcome to log more hours than needed. We have approximately thirty to forty teens volunteer at our Play Days.
The students basically do three things; they help set up play activities for Play Day, during Play Day they invite attendees of all ages to play and after Play Day they clean up. Last year I approached some seventh graders that live in Takoma Park if they would be interested in being Youth Play Ambassadors. These students would volunteer at our Play Days for the next couple of years and as they approach graduation, they would mentor a younger teen to become a Youth Play Ambassador. We have two MCs, Dahlia and Aubrey going into eighth grade who have now been MCs for two of our Play Days. We hold an annual Play Day in September and a Mid-Winter Play Day in February. They have been terrific at making announcements, introducing bands, and performers, and enthusiastically inviting folks to play. Lucy also going into eighth grade helps with refreshments. This summer we have a family that has volunteered at a couple of play events and will be helping us at Play Day. Davidad and Diana along with their super fun and helpful parents are a dream come true to any organization that needs dependable volunteers.
My fabulous executive assistant, Michelle Morris, and our Summer Youth Intern, David Nwankwo have been helping me plan for this upcoming Play Day. Fortunately, many organizations have offered to help us offer all kinds of play opportunities. The Junior Tennis Champion Center (JTCC) which trains teens to become high-level tennis players has been helping us for several years. This year we have Sam Morris, a Pickleball specialist offering his services. 
Our library staff has Dave Burbank who will be returning to offer Comic Jam, where children and adults learn how to make comics. This year one of the librarians who speaks Spanish will be teaching games in Spanish. How lucky we are to have these people help us inspire people to play?
Play Day will end with our very own Congressman Raskin leading Simon Says. This activity is so popular that adults often ask me before Play Day when will Congressman Raskin be leading Simon Says. Back when I had founded the play committee I asked Jamie, who was our State Senator of Maryland if he would like to be involved with the Play Day we were planning. He answered, "Pat, yes I would, I would like to lead Simon Says." This has been such an exciting development in our community. People of all ages look forward to our Play Days.
I urge you to follow us on social media and check out our YouTube channel. All this information can be found on our website www.letsplayamerica.org If you can't come to our Play Day also check out our City TV's YouTube channel found on the City of Takoma Park, Maryland's website. Some of the City TV Crew come to our Play Days, interview attendees and volunteers, and then create these super fun Play Day videos.
I urge folks reading this article to consider creating a play committee in your community, plan a Play Day and have fun playing. You will be rewarded with happy people who will thank you for bringing fun free play activities to your community.
Now, readers, I'm not going to lie it takes money and time to put on a Play Day. Some people will be generous and donate, others will give of their time and, some people will do both. You are welcome to reach out to me and my amazing executive assistant, Michelle at [email protected] You can also help us by making a donation, https://www.letsplayamerica.org/donate 
Another way you can bring play to your community is to let your library and preschools know about my children's books, https://www.letsplayamerica.org/books You can also purchase play clothes and a small percentage comes back to us. https://www.letsplayamerica.org/play-shop#!/
Whether you come to our Play Day or not I hope you will give yourself time to play. We believe everyone deserves to play.