Boldr climbing systems are bringing the mountains to the park
Jay Beckwith is aware of what's out there. Three decades as a designer with playground equipment companies such as BigToys, Iron Mountain Forge, PlayBoosters and Kompan were enough to make it clear that there was a need for an alternative.
"People are really looking for something different these days," Beckwith says. "Post-index systems do a lot and every park needs one, but people are looking for something different."
As an avid rock climber, it wasn't hard for Beckwith to come up with a "different" idea -- bring the mountain, or at least a piece of it, to the park and let kids experience the thrill and occasional agony of tackling a rock face. He believes that a nial-and-error activity such as climbing is just what children need to aid in their development.
"The philosophy of playground design now is to prevent any kind of mistaken behavior on the part of the child to prevent injury," Beckwith explains. "And in order to do that, they try and control the environment so a kid doesn't make a mistake.
"My approach is just the opposite. I ny and make it so the environment challenges the child, so they can't predict what will happen and they have to pay attention .... The skill of being able to climb is also being able to know your limits."
And for Beckwith, increasing those limits is the ultimate goal of his BOLDR Climbing Systems.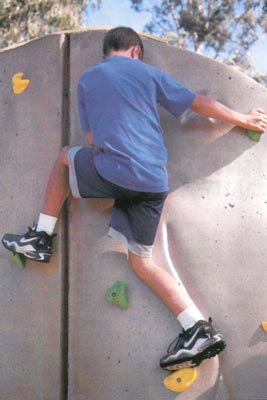 "I see my equipment as an introduction to the sport," he says. "The kids will then go to the gyms to learn the more advanced skills."
Although he admits that fears about safety have acted as a "barrier'' to sales, Beckwith has sold 18 of his systems in the United States and Canada, and he is currently scheduled to install 13 more walls this spring. With a price tag of around $30,000, the BOLDR Systems are meant primarily for what Beckwith refers to as "destination parks" - big parks that are a large draw because they house a number of activities such as tennis, soccer, softball and jogging.
While the walls are a huge attraction for kids who may have outgrown conventional playground components, Beckwith has refused to place age limits on his equipment. He feels that the walls limit themselves because of the strength required to climb and the way the systems are set up and handholds separated.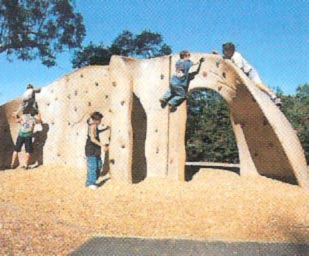 Nonetheless, Beckwith still has to address concerns about safety time and time again. "I don't think that it's an unsafe situation," he says. "The little kids are only two or three feet off the ground, with 12 inches of wood fiber clown below. And they're holding on for dear life because they're aware that they could fall off"
The BOLDR climbing walls are made of steel-reinforced, precast concrete; each section weighs between two and three tons and requires the use of a crane for installation. Climbing holds are specially formulated to endure the sun's UV rays and are fiber reinforced to withstand impact. They are attached with anti-theft, stainless-steel bolts that can be removed to prevent use. The surface of the walls is very smooth with a double coating of sealant to help ensure that graffiti can be easily removed.
The BOLDR TrainR System is made up of five different components: Bend, Wall, Chimney, Overhang, and Sign. Each of these elements can be purchased and used separately, or they can be combined together in different ways. The Sign is a "window into the sport of climbing" that introduces climbing techniques, while the four walls provide different challenges for climbers of varied aptitude.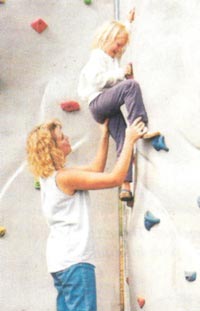 In addition, BOLDR recently introduced a new line called GeoSculpt. Part sculpture and part climbing wall, the Geosculpt pieces look and feel like real rock, and handholds are carved rather than bolted on. This creates a greater variety of climbing routes.
"My goal is to put the control of the behavior in the player,'' Beckwith says. "The thrust of most safety regulation is to put control of the behavior on the designer/manufacturer, and l don't think that's the best thing for kids. I think it's best when they're in control of their own behavior."
FOR MORE INFORMATION
Call BOLDR at (707) 824-9349 or visit www.boldr.com