Ok, it is nasty outside; cold, rainy and a dreary weekend day, so what does a four-year-old kid or for that matter a forty-year-old kid do? You take a good look at your indoor play options and head inside to play.
Eight-year-old Sarah had friends sleep over the night before.  They look out the window and see that the weather outside is not great for playing, so they decide to bring out the board games: Clue and Monopoly.  Then, to get a little exercise, they play Twister, too. I am willing to bet you have some games lying around the house.  Pull them out and have some good old-fashioned fun with family and friends.
In Takoma Park, Maryland, where I live and play, we are fortunate to have an indoor swimming pool at our local elementary school. On Sunday, January 7, 2018, my nonprofit -- www.letsplayamerica.org -- and our local recreation department are co-sponsoring an indoor splash-and-play pool party. This fun, free event is for people of all ages. To see details, go to the website and click on "upcoming events."
You may want to find the nearest aquatic center in your own local or nearby community, so an indoor play option for you may be swimming laps, playing in the pool with family and friends, or taking in a water aerobics class.  Water aerobics is a relaxing way to exercise and have fun playing in the water. Some pools offer indoor kayak training, which is a wonderful way to prepare for kayaking outside at a later point when the weather is more suitable.
Years ago when my children were young and we went to visit friends in England, I was taken aback by the bevy of indoor playgrounds offered for children and families. This may be an option at your own doorsteps or one you may have to travel far to get to yourself. This is where using a little technology can save you time:  Look up indoor playgrounds on the Internet, and see what you can find. Children should have the opportunity to climb year-round, and an indoor playground may give your child that much-needed opportunity.
Susan is one of my good friends, and she is in her mid-20's. Recently she told me she was able to go indoor rock climbing.  I could tell by her voice how excited she was, and I knew she was glad she took another friend up on this invitation. I have been told people of all ages enjoy rock climbing. So, why not put rock climbing on your to-do list, and give it a try?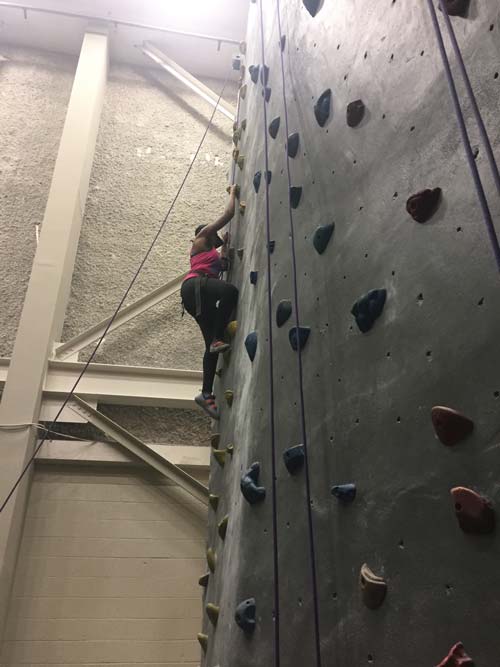 Organized sports were a huge part of my life for many years. I am a former physical education teacher and coach of several sports. There were many years I would coach three sports at the Washington International School and also coach one sport as a volunteer in either Takoma Park or for Montgomery County. Coaching and playing do take up a big chunk of one's time, but believe me, if you enjoy playing and coaching as much as I did, you won't mind putting in the time. The indoor sport I coached primarily was basketball, but sometimes the team members played soccer and tennis inside because of bad weather.
Parents, if your children are showing an interest in playing a sport I suggest you look in your own community first for what might be available to them. The plus of playing an organized indoor sport is that one can almost always count on it being held unless the weather is so bad you can't travel and, in that case, the sport is usually canceled for that day.   Check with your local recreation department as it may offer basketball for children in the winter months. This may be a good option for your child.  Your child is able to learn a new sport, meet new friends and develop skills that can help your child excel in other sports.
I highly urge children when they are young to try to play a variety of sports, not just one. Many athletes I have known played three sports growing up, engaging in the activities on a daily basis with family and friends.  Later, in their teen years, they focused on one or two sports in which they were interested.   Trying a variety when one is younger gives someone a chance to find out what they like and what they are good at, too!
Let's not forget indoor options like dance, martial arts, and yoga. There are so many ways to play indoors in the winter. You may even want to make a list: see mine below.
ABC Indoor Play Options
Archery
Bowling
Climbing
Dancing
Easy made-up Games
Fencing
Games
Hula Hooping
Indoor Soccer
Jump Rope
Kickboxing
Lifting Weights
Martial Arts
Needle Point
Outside games turned inside
Playing Instruments
Queen of Hearts; Crazy 8's; Old Maid
Rowing Machine
Stationary Bike
Table Games: Bridge, Poker, Bunco
Under-the-Table Games (Use a blanket and furniture to make a tent!)
Visual Musical Chairs
Walking inside
Exercise inside: Stretches, Leg Lifts, Jumping Jacks, Sit-Ups
Zoo Games:  Act like an animal (Fun for kids!)
I believe playing every day is a lifestyle we should all adopt. In the winter months you may be stuck inside, so why not choose to play? 
What did I just hear? Oh, that's my daughter's dog, Baron, barking at me. He wants me to chase him around the house. You should know me by now; I can't pass up an opportunity to play. I've got to go chase Baron and play. Until next time, if you have a question for me, send me an email: [email protected].