Over the past few decades, organizations such as the U.S. Consumer Product Safety Commission (CPSC), the National Playground Safety Institute, the Consumer Federation of America and the National Program for Playground Safety have helped bring playground safety into national public interest. The National Electronic Injury Surveillance System, a statistically valid injury surveillance system monitored by CPSC, reports that over 200,000 children are treated annually in U.S. hospital emergency rooms for injuries associated with outdoor play equipment. In response to these reports, the public has begun to demand safer playground environments at schools, parks and childcare facilities through the elimination of known hazards. 
In 1981, the CPSC published the Handbook for Public Playground Safety, a document designed to provide guidelines for efforts aimed at making playgrounds safer. However, these guidelines failed to include adequate technical requirements needed for a "testable" standard; subsequently, inconsistent interpretations of the guidelines occurred. In order to avoid further misinterpretations, a new approach to playground safety was put into place. ASTM Committee F15 on Consumer Products, using CPSC research data and collaborating with playground safety experts, developed ASTM Standard F 1487, Standard Consumer Safety Performance Specifications for Playground Equipment for Public Use. Fran Wallach, Ed. D., chair of the subcommittee (F15.29 on Playground 
Equipment for Public Use) that produced the standard, explains, "The purpose of the standard is to identify and eliminate the hazards. National Playground Safety Institute instructors witness IPEMA Equipment Certification testing in the field playground. We brought together almost 150 professionals, manufacturers, and consumers to address the methods of reducing or eliminating these dangers to children. Members of IPEMA worked for hand-in hand with ASTM to accomplish this purpose." 
The Need for a Third Party Certification Program
Shortly after the completion of the F 1487 standard, play equipment manufacturers, especially those who participated in the development of the standard, began to declare their equipment ASTM compliant. Many manufacturers began assembling and testing their equipment to the specifications included in the new standard; others wrote letters to prospective customers claiming their compliance based upon engineering drawings of individual component parts. In addition to these applications of the standard, school officials, park professionals and a new cottage industry of playground inspectors began to use F 1487 to analyze playground equipment installations. 
However, despite the fact that F 1487 was designed to alleviate confusion and inconsistency among manufacturers regarding equipment production and installation, misunderstandings concerning the application of the standard surfaced. As a result, a call for complete physical product testing validated by an accredited third-party laboratory was voiced. Educated consumers were now requiring proof that their new equipment did not include: 
Inadequate shock absorbent surfacing under and around equipment; 
Improper spacing that may cause entrapment of the head; 
Protruding hardware or railings that could cause lacerations; 
Inadequate guardrails or barriers that could permit inadvertent falls; or 
Slide attachments with gaps that might cause entangled clothing.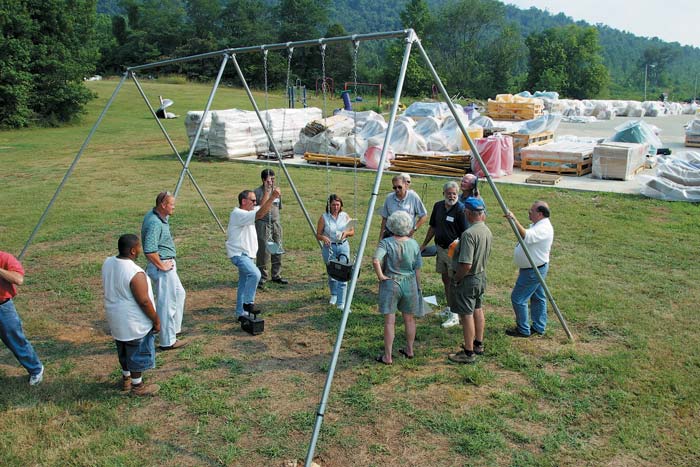 Prior to this public outcry for a change in the manufacturing requirements, manufacturers had held formal meetings under the auspices of the National School Supply and Equipment Association. Under their guidance, the International Play Equipment  Manufacturers Association was formed. IPEMA is a not-for-profit international trade association with a membership of nearly 100 companies worldwide. Currently, IPEMA members manufacture residential and commercial play equipment and shock-absorbent resilient surfacing material in Asia, Canada, Europe, Puerto Rico and the United States. In the interest of public safety, IPEMA provides voluntary third-party product certification services for public play equipment and public play surfacing materials. IPEMA certification provides the validation sought by consumers regarding manufacturers' conformance to ASTM F 1487.
The Teeth of the Equipment Certification Program
Any entity that offers public playground equipment for sale may participate in this voluntary program in accordance with IPEMA's Equipment Certification Program License Agreement and Procedural Guide. However, before a manufacturer can begin validating product compliance with ASTM F 1487, they must have their testing and manufacturing facilities inspected by the program validator. 
IPEMA's validator is the Detroit Testing Laboratory, an independent, accredited, employee-owned testing laboratory that provides a complete range of technical and developmental services, including administration of IPEMA certification programs. IPEMA originally selected DTL as the program's validator because of their experience with the Juvenile Products Manufacturers Association certification program and because of their willingness to assist IPEMA members in initiating their equipment certification program. 
During the initial inspection of a participant's facility, the validator reviews test equipment, calibration procedures, knowledge of proper playground layout, test procedures, and the participant's adherence to these procedures. During the facility inspection, the validator may inspect products from the production line or inventory on a random basis. Additionally, a limited number of complete product tests will be witnessed as directed by the validator. Facilities that are successful in their inspection are re-evaluated annually in order to maintain participant status in the IPEMA Certification Program. 
Once the validator has determined that the participant's facilities and test procedures are adequate, the participant may begin to test their products and certify compliance with the appropriate standard. Participants then submit completed forms for all product models that have been tested and certified as compliant. This submittal includes the basic model tests representing each product line and the structural and other applicable tests identified in the ASTM and/or CSA standard. IPEMA's Equipment Certification Committee provides detailed forms to help guide participants in their written and graphic product submittal process. The validator is the sole judge as to whether the information provided is adequate to validate products or if additional information or tests are needed.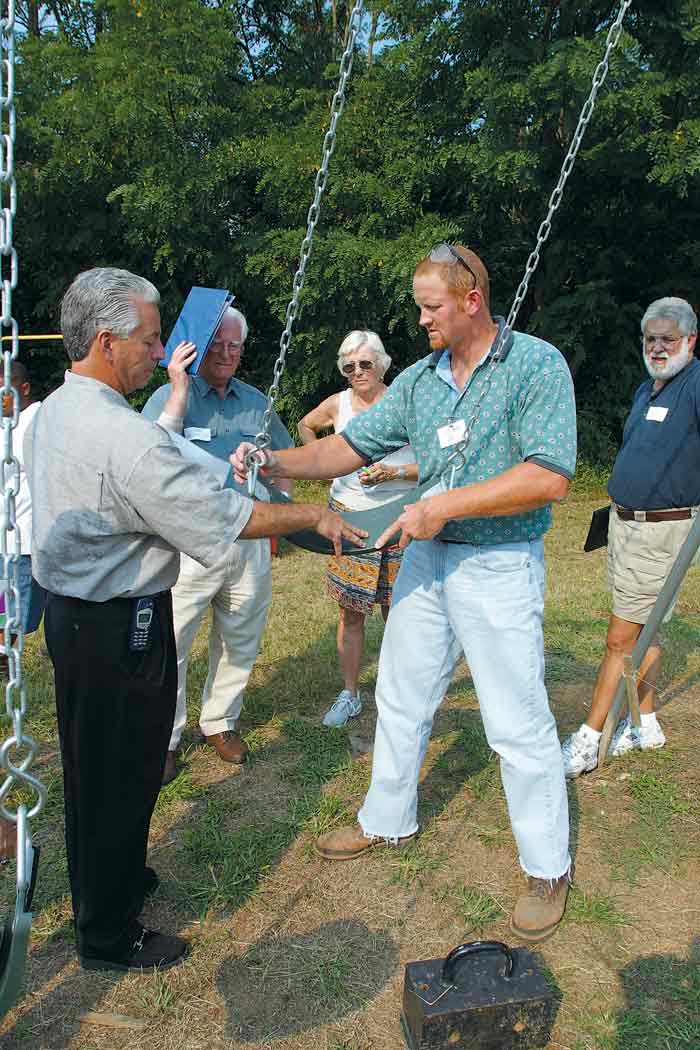 Upon successful completion of the validation process, the participant, in order to maintain its IPEMA product certification status, must retest a minimum of 20 percent of its validated products each calendar year. Product tests expire on Dec. 31 following the fifth anniversary of the date on which the test was performed. This ensures that each participant's products are tested at least once every five years; facilities are re-evaluated annually. 
Products that are certified by participants and validated by DTL are allowed to carry IPEMA's Equipment Certification Seal in their product sales literature and advertisements. The use of the Certification Seal is carefully monitored by IPEMA's board of directors and legal counsel to ensure program credibility and to prevent any misuse of the seal. Additionally, all validated products are added to IPEMA's Web site, www.ipema.org, within 30 days of their validation, allowing prospective customers to review participants' certification. Another benefit of the Website is that manufacturers' sales representatives are able to quickly create up-to-date certificates of their IPEMA-certified products to share with clients by simply downloading a listing of a participant's validated model numbers and descriptions.
Ongoing Improvements to the Standard
Every year, IPEMA's Equipment Certification Committee holds six three-day meetings, one every other month. Kert Artwick, the Equipment Certification Committee chair says, 
"The purpose of the committee is to administer the program. This includes hiring the validator, making the License Agreement and Procedural Guide available to the participants, and more importantly, we create an ongoing list of clarifications of what is meant by the standard." Artwick further states, "All participants use this information to aid them in their testing program and, when appropriate, the Equipment Certification Committee recommends standard changes to the ASTM F15.29 subcommittee." In turn, the ASTM subcommittee continues to improve the standard through their consensus-driven process. 
Customers can rest assured when they purchase play equipment and safety surfacing products that are IPEMA certified. However, even with all these improvements in the safety of public play equipment, correct product installation, age-appropriate design, proper supervision and frequent maintenance of the equipment and environment are necessary to ensure the best possible experience for children. 
Tom Norquist is the senior vice president at GameTime, a founding board member of IPEMA, and long-term active ASTM representative. He also serves on the boards of the National Playground Contractors Association and the National Program for Playground Safety.