Children learn through play. It helps develop them physically but also enhances their imagination, intelligence, and social skills. 
Playgrounds are a place where kids can have fun just engaging in free play. When it comes time to choose play equipment, you want age-appropriate pieces but also equipment that challenges them to explore, learn and interact with others.
Let's start off by setting goals for your playground.
Goals for the Playground
You want to be very clear about what you are looking for before asking for a proposal – for instance, specific equipment you want or don't want. Often, the best advice is to start with the end in mind. Developing a list of goals will help everyone involved – from the play equipment companies to the playground installer and the playground consultant – understand what you want. 
Goals might include things such as:
Ease of maintenance
Innovation
Design
Strengthening partnerships within the community
As you develop goals, be sure to involve all stakeholders and seek out experts when needed. That might be a recreation expert, construction professional, or parents of children with disabilities.
Location and Area for the Playground
You also want to assess the area for potential challenges. Things you should take into account include:
Ensuring you have enough room to extend the safety surfacing at least 6 feet around the play equipment for required use zones.
Ensuring you have good drainage or determining if updates will need to be done. Installation experts recommend a slope of 1% to 4% (or one to four feet of fall for every 100 linear feet).
Assessing the topography. Determine if there are manmade or natural features that need to be incorporated into the playground or affect the playground.
Budgeting for the Playground
We talked about budget in the first of our 6 Steps series but budget is more than just about money. You want to make sure you get the most for your budget dollar and that probably means relying on a landscape architect, playground consultant or playground manufacturer to make recommendations. It also means delivering the project on time and within budget.
Check references.
Find out about reliability and on-time delivery. 
Ask questions about the durability and safety record of the products being recommended.
Find out about warranties. 
Understand how much it will cost to maintain over time.
Tip: Consider designing on a Pay for Play concept. This means play elements come first instead of relying on what is left over in the budget.
Plan for Specific Age Groups
For a public park and playground, you need to know and plan for the community that will be visiting and using it – one size does NOT fit all. Plan not only for current age ranges, but also future age ranges. Plan so that it meets the needs as the neighborhood children grow up. This can be extremely important when planning for smaller, neighborhood playgrounds.
You also will want to have an idea of the number of children the play equipment needs to accommodate.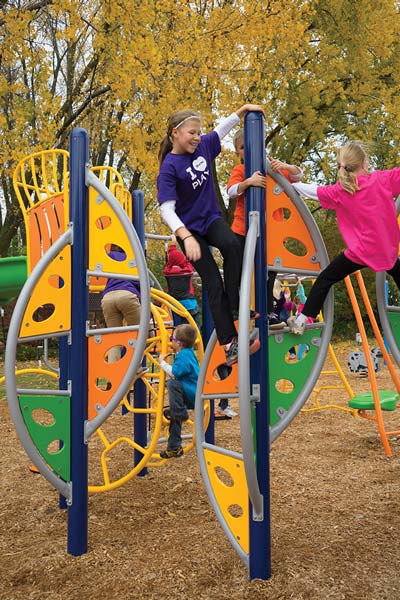 Areas for 2 to 5-year-olds:
Offer activities that test motor skills, strength, agility and creative thinking, such as climbing over, under and around things, smaller steps and crawl spaces that promote exploring.
Encourage social skill development, areas where children can begin to interact with others.
Play equipment might include crawl tunnels, small slides, enclosed play spaces, activity panels for fine motor skills and decks of modest height, low platforms, ramps with pieces attached for grasping, tricycle paths and sand areas.
Areas for 5 to 12-year-olds:
This age group is ready for bigger challenges both physically and intellectually. 
Children tend to want play equipment with higher platforms and slides, swings, climbers, larger slides, rope climbers, monkey bars and upper body equipment.
Choosing Play Equipment
You need play equipment that is age appropriate, but there are a few other things to consider when deciding what to provide.
Do you want single or multiple user equipment?
How many children need to be accommodated?
How tall or what height are you comfortable with?
Do you want traditional post and deck play equipment, rope play equipment, music, boulders?
Do you want swings and spinning opportunities?
What accessibility/inclusivity requirements do you have?
What types of surfacing will be needed?
Have you accounted for use zones?
Will the equipment provide the seven elements of play?
7 Elements of Play
When planning a playground, there are 7 elements of play that should be considered. Playgrounds that promote different types of play are vital for a child's cognitive, emotional, physical, and social development.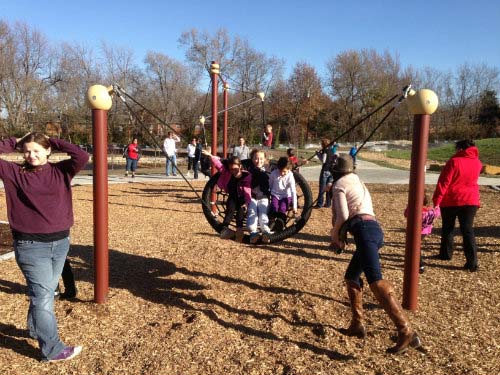 Swinging, a very basic playground activity, can help with balance, teach a child to know where his or her body is in space and practice fine motor skills (grasping the chain) and gross motor skills (pumping the legs).
Traditional, toddler and infant swings help develop gross motor skills (locomotion, balancing, body coordination) as children develop the pumping motions and jump out of the swings or even pushing others in the swings.
Saucer swings accommodate multiple kids at one time, are accessible and enables children with special needs to enjoy the swinging movement.
Hammock swings have a smooth swaying motion that is soothing. This motion of swinging restores balance to the vestibular system, provides proprioceptive input and helps children with autism feel more in balance.
Spinning helps important body functions develop and function properly. It helps build gross and fine motor skills along with core strength, enhancing the vestibular system and body awareness.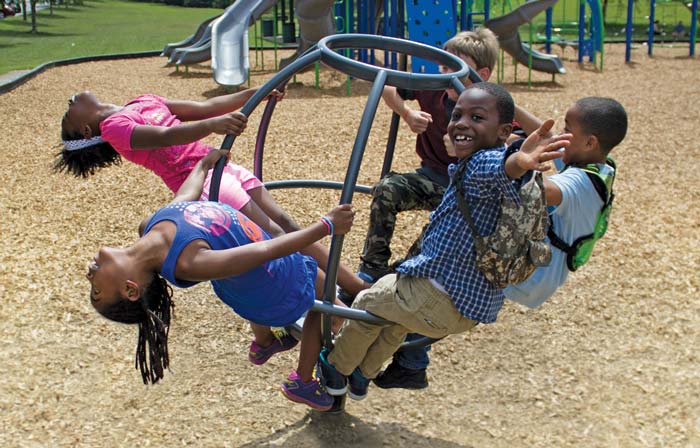 The Comet Spinner from Burke challenges children ages 5 to 12 to use their strength, balance and coordination. It can be used by one child or a group, sitting or standing either inside or outside. The children use their strength to move it. Mounted at an angle, it provides interaction with the force of gravity.
Whereas the Eddie from Berliner is a very simple spinner. It has a body and stem made of stainless steel that is either straight or curved and accommodates one or two kids at a time. This is a great spinner for both small and bigger kids.
Balancing activities help build muscle strength, endurance and postural control, encourages pretend play and social interaction, develops proprioceptive systems and cognitive functions.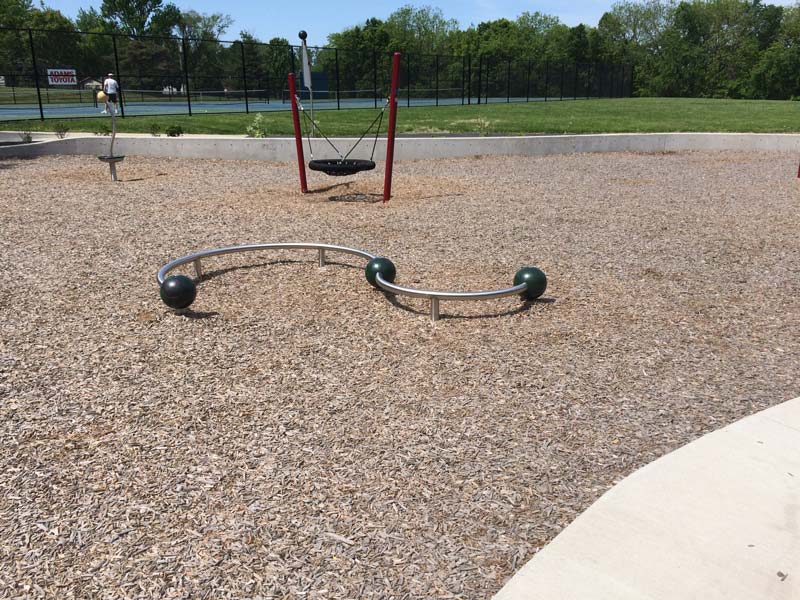 The Orbit is a curvy balancing trail. Children love to balance and even adults may appreciate a quick balancing exercise, too!
Climbing helps build gross and fine motor skills, enhancing the vestibular system, perceptual motor skills such as body awareness, spatial awareness and directional awareness and sharpening visual perception skills. Climbing helps make children aware of direction – up, down, left, right. It encourages problem-solving and predicting what's going to happen.
For older kids, a rope structure such as the Pegasus from Berliner can provide unlimited play opportunities – climbing up, down and side-to-side, increasing their confidence as they climb higher and higher! Berliner's structures are true, 3-dimensional climbers, encouraging kids to think about where they want to go and create their own path to get there.
Play equipment like Burke's Pod Walks and Pad Climbers help kids master balance and coordination skills as they climb.
And, don't forget the challenges climbing rocks and boulders offer!
Brachiating is the activity of swinging from one arm to another on overhead equipment. This swinging activity makes the brain work the same – left, right, in an alternating pattern. It develops both fine and gross motor skills. Learning to move one hand from bar to bar can help with coordination and balance.
You don't always see a lot of preschool playground equipment for this activity. Many tend to think that young kids are not strong enough to do this. Instead, consider installing playground equipment low enough so that a child can raise his or her arms up and do the alternating activity while standing on the ground. The important part is the alternating pattern, not that the child be suspended in the air.
Sensory play encourages children to use one or more of the senses, stimulating sight, sound, smell, touch, taste, balance and movement. It helps build neural connections that support thought, learning and creativity and supports language development, cognitive growth, fine/gross motor skills, problem solving and social development.
Musical instruments are an easy way to incorporate sensory play. Musical instruments pique a child's curiosity – what sounds will it make? How hard or soft can I hit it? Will I be any good? The great thing about musical instruments is that they are good for any age (including adults!), ability and you don't even have to speak the same language as someone you are playing with. Musical instruments help develop a child's auditory system and the vibrations add to the sensory experience.
Shade on the Playground
Don't forget about shade! It's easy to overlook but it's an important consideration since it can reduce the temperature of a playground by as much as 15 degrees on a hot summer day. 
You'll want to orient the play equipment in such a way to try and keep surfaces as cool as possible. Shade structures are for more than rest areas; they can also be used on the actual play equipment if no shading is available by other means.
Find a more detailed discussion about different types of shade.
A good play consultant will help you lay out the play equipment on the playground, taking into consideration orientation for access, drainage, heat, and other factors.