DJ Post - Turn the disc, keep turning! This generates energy. Put your phone on loudspeaker and put it in the designated area, under the protective hood. The DJ Post amplifies the sound from your smartphone! No Bluetooth or cables needed! The built-in tech picks up the sound of your smartphone automatically. It is always nice to listen to your own music. Every hangout needs one. Ideal for teens!
How would it be if you walk through the city or park and encounter unexpected interaction between people who play and move together with interactive installations? People who move, play and learn together, outside and without screens, using ecological interactive installations. 'Human powered' installations where the users are generating the electricity themselves and not depending on the internet.
Eduplaying is a company from the Netherlands which produces interactive playground installations and realizes 'Interaction Places'; ready-to-go concepts for all ages, aimed at movement and interaction. Accessible for kids, teens, adults and elderly people and of course also for people with special needs. As a market leader in interactive play installations, Eduplaying installed thousands of Interaction Places all over the world in the last 10 years.
Naf Hershler, the CEO and founder of Eduplaying: "Children and adults of today are sitting too much inside, alone and locked behind their screens. That is not very healthy, as we can see with the rising problem of obesity. It is proven that being outside and playing and moving together is very healthy. So we thought about a new way to bring people outside, make them move and let them play together. Not only kids but also adults, elderly people and people with special needs. In order to do that we use the 'language' of today which people are attracted to: interactivity. Our installations offer exciting fun games, nice stories, and musical entertainment. People love to play with these installations. Furthermore, we decided that all our installations should be ecological. So the necessary electricity is created by the user themselves and we use the 'cradle-to-cradle' principle within our production." 
RunTime - Push one of the colored buttons. RunTime randomly will name a color. At the moment this color button is pushed RunTime tells you the time it took to push it. Then it shouts the next color. RunTime is not just one game, it's a stimulation to invent your own games. The possibilities are endless! RunTime can be placed all over the playground. This interactive human powered installation is specially developed for kids, teenagers and family play.
Interaction Places can be created not only on the playground but anywhere. In the city, the park, in the neighborhood, on the schoolyard, the mall, restaurant, airport or square; the installations fit everywhere! 
All Eduplaying products make use of human-powered energy. The installations don't need external electricity and don't use batteries. The installations are 100% safe. All Eduplaying installations are tested and certified for the public space. Most of the products are accessible for people with special needs, for example, wheelchair users or people with hearing disabilities.
The Eduplaying installations need very low maintenance. Some installations are even maintenance free! The Eduplaying products are highly vandalism resistant. All installations have an option for a built-in time clock to disable use at night. No complaints about noise, even in living neighborhoods.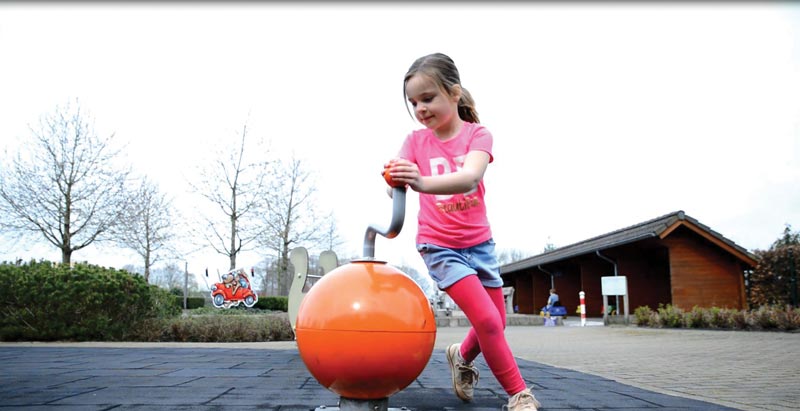 MusicBall  - After you turn the crank, the Music- and StoryBall will play songs or stories. By moving the crank users are generating electricity; no external electricity needed! Each Music- and StoryBall contains many different songs or stories which will randomly play, in this way the interactive installation never becomes boring. The Music- and StoryBall is very strong, resistant to any weather and very vandal proof. 
Naf Hershler: "Interactive installations have an additional advantage. You can install them in places where you can't put regular playground installations. That is why we created the concept of 'Interaction Places'. Our goal is to enable people to move and play anywhere, not only at the playground."
Creating a special atmosphere at any park or playground
An essential element in the development of children is in fact music. Music helps the development of physical, emotional, social and cognitive skills. The MusicBall will make you want to dance and sing, so it's a cheerful way to stimulate children's development! Singing and dancing are more than just fun! And think about the StoryBall: by listening to the stories your imagination is activated.
Eduplaying sells its product all over the world, through a network of qualified resellers. Naf Hershler: "We work with resellers all over the world. It doesn't fit any playground company to sell our interactive products. Companies do not need any special technical knowledge, because our products are simple to install and use. But resellers need a clear vision on playing and playgrounds in the 21st century. Companies who do understand the concept of Interaction Places and interactive installations succeed to enter new markets and win projects from their competitors. We are growing rapidly and expect to expand our business over the coming years."
Another new playground market for Eduplaying is STEM – science - education. The interactive installations can very well be used with science content and games, even letting students create their own content. Naf Hershler: 'Recently we finished two STEM projects, one project near Houston and one project in Midland, Michigan. As a Dutch company, we are proud to supply our American clients with interactive STEM installations, including the Play Planetarium, which is a climber, outdoor classroom and interactive Planetarium in one structure. There aren't many interactive STEM installations available and also in this field, our products are in high demand."