Recycled Materials Are Making An Impact On Manufacturing
We've all enjoyed a nice glass of milk first thing in the morning. It's especially enjoyable after the plastic milk carton has spent all night in the back of the refrigerator the coldest part. But what happens to that plastic container after the last of the beverage is used? More and more often the plastic container is being recycled. And, more and more, that recycled plastic is being put into use in our neighborhood parks and schools- as play equipment.
Ali Bemanian, president of Progressive Design Playgrounds headquartered in Vista, Calif., says that just one of his company's play structures consumes about 20,000 recycled milk jugs. His structures are made of a material referred to as "plastic wood ." This synthetic material has the general appearance of wood and is used in much the same way, but Bemanian says that using plastic instead of wood will save approximately 20 trees per play structure.
But there are advantages and disadvantages to using recycled materials in the manufacturing of a play structure.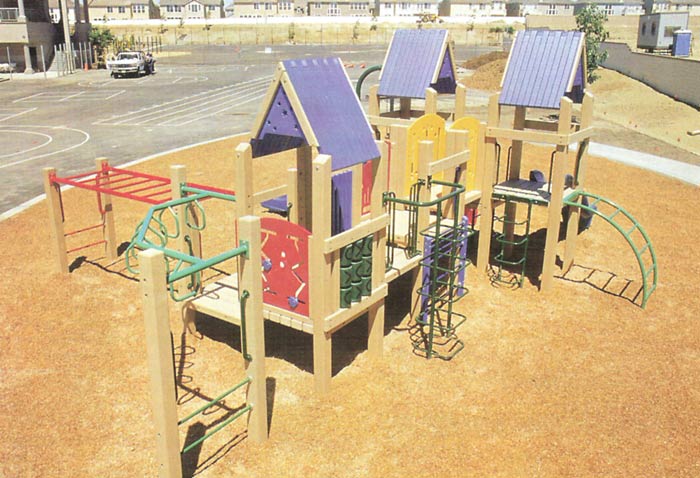 One play structure manufactured by Progressive Design Playgrounds can be made of 20,000 recycled milk jugs.
Advantages
Environment-Friendly
Perhaps the most obvious advantage is that the process helps reuse our planet's natural resources. Plastic is a petroleum-based product and is therefore subject to the limitations placed by the nature of its source. There is a limited amount of petroleum in the world and when it's gone, it's gone. Steel, aluminum and other metals used in play equipment manufacturing are in the same situation.
Also, reusing these materials helps limit the use of waste sites in the local community. The more that can be done to limit the use of landfills, the more positive the community will be. "We are fairly sensitive to the long-term survival of the environment/' said Curt Shaneour, president and founder of Recreation Creations, Inc., based out of Hillsdale, Mich ., and one of the pioneers in using recycled materials in playground manufacturing. "Of course, plastics aren't subject to the decomposition many other materials are. When we found the technology of recycling milk jugs we tried to find a way to include it in our production line for the environment and for a marketing tool. It worked. It was well received by the community."
Shaneour's company uses a patented process to make its PlasTECH recycled posts- made from 96 percent post-consumer recycled plastic. The posts are reinforced with a steel core that is also made from at least 50 percent recycled steel. Recreation Creations' steel posts are made from up to 95 percent recycled steel. The company's clamps and caps are made from 100 percent recycled aluminum.
For Bemanian, using the plastic wood as opposed to real wood is also useful to keep the cost of maintenance low.
Maintenance
"The real advantages are summed up in two words: longevity and maintenance," Bemanian said. "The recycled plastic lasts longer."
Bemanian company, which has been manufacturing play structures mainly in southern California since 1991, has sponsored tests where plastic wood was aged up to 20 years in a laboratory and the materials did not show signs of aging or deterioration.
He also says that the maintenance required is less because the structures don't need to be touched up or painted, as recycled plastic has color injected all the way through each profile.
The structures are solid plastic throughout and if the material is chipped, the color will be the same. The plastic structures are also free of the splinters that are sometimes prevalent in poorly maintained wooden structures.
"I have children and when they started school they had problems with splinters from the wooden play structures," Bemanian said. "With the plastic structures, you don't have the problem of splinters."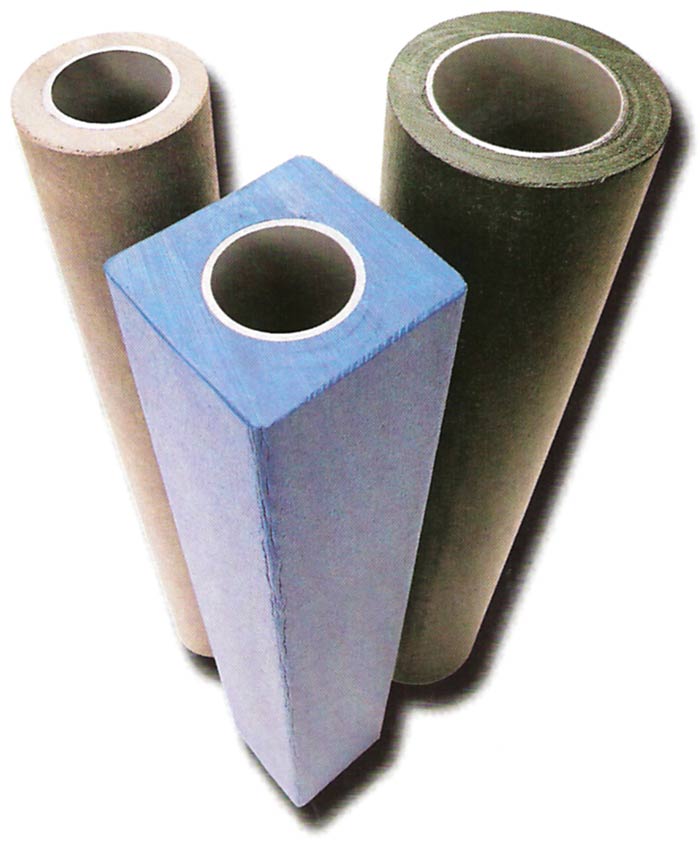 The PlasTECH recycled posts manufactured by Recreation Creations, In c., are made of 96 percent post-consumer, recycled plastic. They are given added strength with the addition of a steel core made from at least 50 percent recycled steel.
Educational Examples
But perhaps one of the biggest advantages Bemanian has seen with the construction of play structures by using recycled materials is the educational opportunities it brings to children.
"When you put in a school structure, the school uses it as an educational tool to teach the value of recycling," Bemanian said. " It helps kids want to recycle when they're able to see the end result of recycling a milk carton."
Shaneour's company not only sees the important educational opportunities present in using recycled materials for school playgrounds, it helps educate schools with tips to raising money for a new structure. Recreation Creations offers a 23-page document available through the company's website entitled Recycling & Raising Money to Build a Colorful New Playground in Your Community.
Disadvantages
Cost
One of the most noticeable disadvantages is the initial cost involved. This higher production cost is usually encountered by the manufacturer and is often passed on to the consumer. The high initial cost will often keep potential buyers away, but both Shaneour and Bemanian agree that the initial costs will be offset by lower maintenance costs later.
"A knowledgeable buyer will recognize that the maintenance is lower in the long run," Shaneour said.
"Other types of materials have problems with corrosion and decay," Bemanian said. "The solid plastic material doesn't need to be painted and it doesn't have the problem with corrosion like metal, or decay in wood. If customers are willing to pay a little more, they will get a better structure."
Tim Ahern, president and CEO of BCI Burke Company, LLC, agrees that one of the main concerns his company has with using recycled materials is the higher cost.
"The problem with using recycled materials is that people think it's less expensive because it's recycled," Ahern said. " In most cases, though, it costs more for the recycled materials than for the virgin materials."
Strength
There is also some question as to the strength of recycled plastic when used as the structural foundation of the play equipment. Bemanian's company routinely uses solid 6-inch x 6-inch plastic posts and solid 4-inch x 6-inch "plastic wood" planks as decks. Because recycled plastic has different structural characteristics than regular lumber, Progressive Design Playgrounds regularly tests its products per ASTM Fl 487 to ensure ultimate structural integrity.
"We put over 4000 pounds of weight on a 4-foot x 4-foot deck for a load test and we get very little deflection," Bemanian said. ''That is equal to approximately 60 children on a small 4-foot x 4-foot space."
Despite the successful institution of the plastic wood into the structural foundation that Bemanian company has enjoyed, Sue Waters, the sales manager of Plastic Recycling of Iowa Falls, Inc., warns that serious consideration should be made with what the "plastic wood" is used for.
"People think that it is lumber made out of plastic and try to do the same things with that that they would do with wood," she said. "It isn't the same. It isn't as strong as wood and it shouldn't be used to support an entire structure."
Monty Christiansen, Associate Professor of Recreation and Parks at Penn State University, agrees with Waters but feels that if the plastic wood is properly reinforced it can be used to support a well-designed play structure. "Structural engineers have the technology to incorporate tested reinforced synthetic posts and beams in good-quality frame designs, especially if bearing loads are limited as in elevated platforms for play structures, he said.
There are also different grades and qualities of the material and consumers should be aware of the proper uses of each.
Waters' company is a manufacturer of the "plastic wood" and uses the material mainly for park benches and the parameters around the structures that hold surfacing products in place. She said that the weaker strength of the plastic is especially noticeable when the material is used in longboards. Bemanian explains that part of the success his company has enjoyed with the material is due to the high quality of "plastic wood " it uses and for the relatively short length of the beams- which are not more than four feet long.
Costumer Awareness
But perhaps the most difficult challenge in using recycled materials in play equipment today is getting the word out.
" I don't think anyone would choose arbitrarily to be against recycling, " said Shaneour, who patented his PlasTECH design in 1985. " I just think that there wasn't a great deal of awareness at the time (we started). Now (other manufacturers) are starting to see the advantages of recycling and we are starting to see more of it in the industry."
On the other hand, Ahern says that it is the education of the customer that led to the development and success of his company's Series 1000 play equipment line. The Series 1000 is dedicated to the use of recycled materials and uses recycled plastic in its platforms and walI barriers.
"If the customer wants a 'green' product they will go somewhere they can find it," Ahern said. "We want to provide products for that certain group § of people. The bottom line for the manufacturer is if the product can't make money it's hard to justify the creation of that (recycled) line. If there's a profit to be made, we, and the other manufacturers will find a way to do it."
Future
And the future use of recycled materials looks to continue to rise.
"As resources become shorter, I think that we will see manufacturers choose to use recycled materials," Shaneour said. "That will help keep the resources and help make good products."
Besides the obvious depletion of raw materials, there are some other issues that are helping to increase the amount of second-hand material that is used in play equipment.
"Governments are beginning to pass legislation requiring a certain amount of recycled materials be used in products that can use them," Bemanian said. "As more legislation is passed, more companies will have to use recycled materials."
And more milk jugs will be redistributed to post-market consumers and away from landfills.