Playmattas Deliver Fun, Security And Value To Playgrounds
Hey Mister! Tell Miss ... not to put the swings back. They just get in the way."
This was the excited proclamation of five young boys, breakdancing on Playmatta surfacing. As a result of the pleadings from the boys, the school did extend the area covered with Playmattas, and the fun continued.
The March issue of Today's Playground reported that 68 percent of playground injuries are caused by falls to the surface below equipment. All surfacing manufacturers and suppliers agree that good surfacing is a vital part of a safe and enjoyable playground. The free market is continually stimulating innovative manufacturers to produce a better product than their competitors and to develop market channels that deliver this to the customer. There are now many surfacing alternatives available with different strengths, weaknesses, and costs, as well as common elements.
So what is it that distinguishes Playmatta surfacing from the others?
It is its unitary modular system with three components:
Permeable rubber shock pads, 3/8-inches thick
A dust and weed barrier
1-inch thick interlocking plastic mats
Impact absorption is provided primarily by the rubber shock pads. The plastic mats also absorb impact, but their main function is to protect the rubber shock pads from wear and tear and ultraviolet light. Unprotected rubber is vulnerable to hardening and curling when subjected to sunlight. Tests on older (over ten years) Playmatta playground installations show that there is virtually no reduction in impact absorption over time, even in high traffic areas and high use public playgrounds. The plastic mats have demonstrated their ability to withstand many millions of foot traffic passes without any noticeable wear.
The suppliers are proud of their quality control programs that run from manufacture to final installation. Manufacturing is carried out in New Zealand using recycled materials and the process is IS0-9001 accredited. Distribution in the United States is through their associated company whose personnel familiarize themselves with each site and gain an understanding of its unique features as well as the customers' ideas and individual requirements. These ideas, together with the site-specific requirements for installation, are incorporated into an individual set of plans and specifications for every playground. Web-based technology is used to accomplish this. Having sufficiently captured the requirements of the site, an inspection program ensures correct installation.
Playmatta surfacing comes with a six-year product warranty that is believed to be the longest performance warranty in the industry.
The quality of the installation of all poured-in-place and unitary surfacing products depends on the soundness of the base. When corners are cut, the longevity of the surfacing can be seriously compromised. The cost of base preparation where existing material has to be removed, drainage installed and a pad constructed will be a major component of the total cost of surfacing the playground. Playmatta's unique installation process gives both cost benefits and an improved final job over traditional base preparation methods. For example, installation on an existing sand playground is completed as follows:
The sand is not removed but is tilled, processed, compacted and leveled to provide the base on which the Playmatta shock pads are directly installed.
The treated sand base is permeable. The rubber shock pad and plastic mat are designed to allow water to pass through. Thus the surfacing and base become a self-contained system with drainage. The playground is usable immediately after rain with no puddles on the surface.
Various combinations of playground border design are available from traditional concrete to lumber and factory-produced edging.
Comparing the cost of a Playmatta installation on an existing sand playground to a compliant wood-chip installation on the same site shows that the Playmatta surfacing can reach a payback situation after as little as three years, and well within the product warranty period. Playmatta surfacing is easily installed on existing concrete, asphalt, dirt and loosefill sites. In some instances, it can be directly installed on top of other unitary or poured-in-place products that might be failing.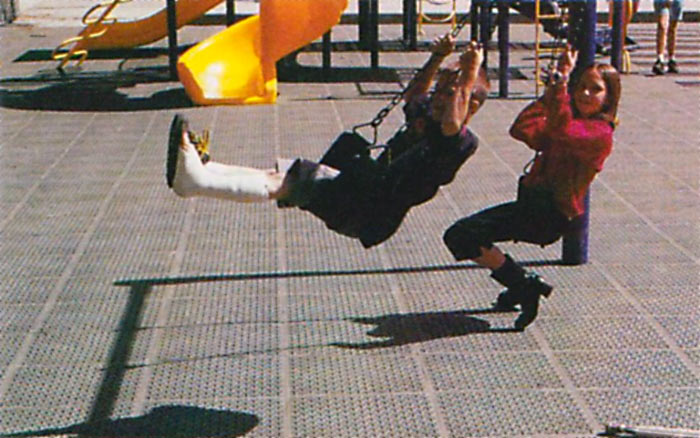 Playmatta safety surfacing uses a unitary modular system with three different components to set it apart from other surfacing.
Vandalism is a common concern for playground providers. The Playmatta surfacing is difficult to permanently deface or destroy, being constructed from robust plastic material. Graffiti is easily removed with standard products and if the surface is deliberately damaged with a sharp tool the affected area is simply replaced, no patching is needed. In practice, vandalism is rare. The product has been installed in high-density inner city suburbs with no recorded incidences of vandalism to date.
Playmattas also comes with ASTM 1292-99 certification, ASTM F1951-99, ADA compliance, ASTM E 108 fire exposure testing, friction testing and a host of features such as a comfortable feel under bare feet, hollow core design in the mats and shock pad for impact absorption, attractive colors, unique interlocking system, elimination of gaps between tiles, no curling of edges, no requirement for a concrete slab, competitive pricing, long life and minimal or no maintenance.
There are different Playmatta products for indoors and outdoors with varying ASTM 1292-99 fall height certifications. The strongest recommendation, however, is the ever-growing number of enthusiastic customers with installations in a wide variety of climatic conditions.
Playmatta safety surfacing is manufactured in New Zealand by Matta Products Limited and can be found in 17 countries around the world. It is distributed in the United States by Matta Products Limited LLC. Phone them at 1-888-346-2882 or visit their Web site at www.playmattas.com.
POST ARTICLE TEXT:
Paul Harris is the president of Matta Products Limited LLC.