Climbing the walls has become a good thing with Rockcraft Designs
Who says adventure has to be dangerous? It's not always a bad thing to be climbing the walls, and Rockcraft Design has elevated it to a different level and in a good way. If you have ever watched children when they reach the top of something they are climbing, you've likely noticed the sense of accomplishment they feel. That feeling is there whether they have climbed the kitchen table for the first time, a tree, or even a grassy hillside only to roll down. They are on top of the world. Rockcraft designs realize this, and they are pushing the trend of climbing walls to different heights.
Ed Fischer, President/Designer of Rockcraft and a climber of 40 years knows that feeling first-hand and sees that it builds confidence in the process. He and his brother Allen built the first full-scale indoor climbing gym in Canada in 1992 with the idea that everyone would be welcome to learn with safety being paramount. A few years later, Ed began construction of a 35 feet in diameter mushroom built on site at the Riley-Little Mountain Park in Vancouver, B.C. and decided that he liked the idea of building interesting and natural-looking structures accessible to all ages and abilities in the parks for children to climb on without cost or the need for special gear.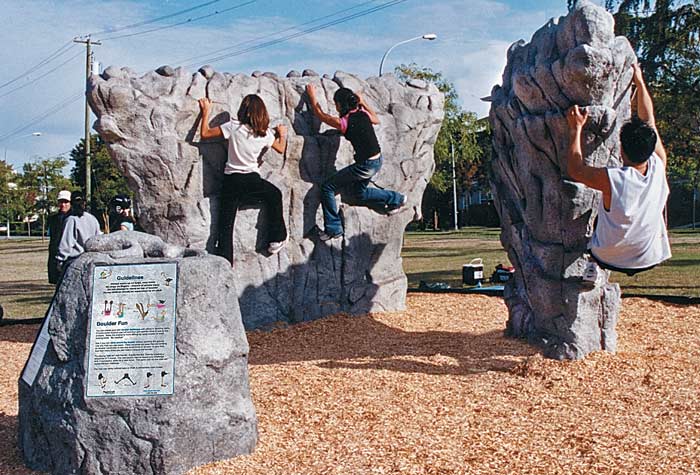 Ken Crozier, the company's Vice President, had been involved with GameTime (a playground equipment manufacturer) since 1984 and saw the same vision Ed had of making structures available to the parks and also the camp market. After meeting at Riley-Little Mountain Park in 2002 to discuss their views, they decided what they wanted to offer to the market. "I could see how we could produce them on a more automated basis and still give attention to detail without losing the quality of the product and make them shippable also," says Crozier. He and Ed decided they could still provide a low-risk challenge with success for climbers of all ages, so they went to work.
The three keys to their product are safety, climbability, and aesthetics in that order. Safety is always number one and something that is never compromised either in design or building of their products. With these attributes in mind, their structures have a V-shape to them, so there are no chimneys or snags to obstruct a landing to the safety surface. Their climbing structures are accessible to all age groups and abilities and even offer a challenging route for experienced climbers. They are also designed so that they are not only functional but also attractive centerpieces for a playground or park. Along the line of safety, their structures do meet safety standards, and they also suggest a clearance perimeter of nine feet around the structure.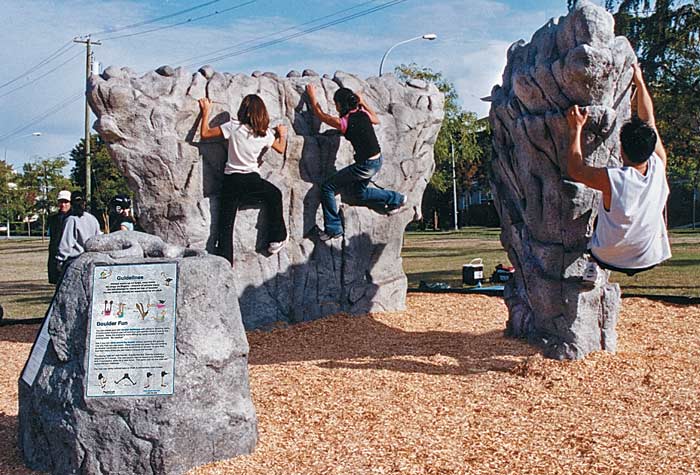 Part of what sets their product apart is that they are designed more to climb around than to climb and sit on, so there is not a flat walking surface on the top or a spine to climb up. The internal structure is steel for stability, made of 65 mpa concrete (reinforced with special fiberglass strands), and hand painted so as to look more like granite, limestone, basalt or sandstone. All of their grips are carved with a downward slope so water will not stand or freeze on the structure to create a climbing hazard or lend to cracking. 
"All our climbing sculptures are handcrafted and we bring all of our experience, passion, and imagination to every piece," says Fischer. They can also stamp things such an antelope or horse on the structure to help define the level of difficulty of each trail. With their pieces, they carve different sizes of holds, and as the climb gets higher, it does increase in difficulty. This is a plus because it's not just the kids who are climbing the walls. Experienced climbers are finding that they still get a good workout on the smaller pieces such as the turtle and lizard, which provide strength training and challenge as well.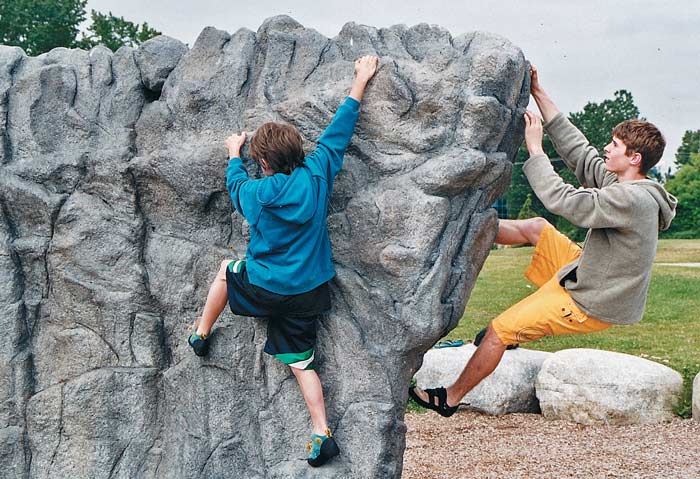 Just when you think you have seen it all, they come up with a new design. They have also created poolside models with many of the same attributes. The wall leans slightly out over the pool so that a child can climb even to the top and fall to the water should they choose not to climb back down. In addition to the model that fastens to the pool deck and a wall behind, there is now a downsized freestanding model, which requires no wall behind to fasten to as it comes with either a bolt-down kit to secure to the pool deck and an optional 120-gallon ballast tank and tray.
The staff at Rockcraft are well-suited for what they do. "All of our production staff are dedicated rock climbers. In addition, we collectively have backgrounds in fine arts, children's gymnastics coaching, climbing gym operation, professional risk management, and kinesiology, to name few areas." That includes sales personnel. "My personal goal is to provide constant quality customer service. It is important to establish a close relationship with each client and continue that service before, during and after the installation. e have a quality product and I want to 'top their cake' with quality, personalized service," says Karin Lower of sales and marketing. 
Take a look at www.playwalls.com or give them a call at 866 786 1635. You'll want to climb the walls!