Just where are we going with today's playground safety? Throughout the playground industry, the issue of safe playgrounds has always been a priority topic and naturally so. Having fun in a safe environment is the whole reason for playgrounds, is it not? But there are those who would argue that as the safety regulations increase, the fun-factor of a playground decreases. In addition to having fun, playgrounds challenge children to explore their limits both physically and socially, while improving their agility and strength. Let's face it, to a kid, playing on a playground is the most perfect of activities. But, what happens to that experience when the equipment is unsafe or a child plays in an unsafe manner leading to a serious, life-threatening or fatal injury? 
Is it possible that states adopting the CPSC Handbook for Public Playground Safety as mandatory on public playgrounds will stifle the playground adventures for the kids of today and tomorrow? Or, will playgrounds become less imaginative and less creative because they're restricted by the American Standard for Testing Materials (ASTM) that continues to develop and set forth standards for design issues not directly related to safety? Has ASTM has moved beyond their original focus of eliminating life-threatening injury? Have they taken safety too far?
ASTM was founded in 1898 and is known internationally as one of the largest voluntary standards development organizations. They provide a source for technical standards for materials, products, systems, and services. ASTM became involved in the playground industry in 1986 as a task group for creating a playground surface standard. In 1988 ASTM developed a set of standards for public playgrounds and play areas. With the CPSC injury statistics as their guideline, the ASTM published a new standard for surfacing to measure impact attenuation and therefore reduce the number of fatal head injuries sustained on playgrounds. Since the late 80s, ASTM has published and updated five standards relating to playground surfacing, one "Standard Consumer Safety Performance Specification for Playground Equipment for Public Use – F1487-01e1", and one standard for home playground equipment.
The published mission of ASTM is "to be the foremost developer and provider of voluntary consensus standards, related technical information, and services having internationally recognized quality and applicability that promote public health and safety, and the overall quality of life; contribute to the reliability of materials, products, systems, and services; and facilitate national, regional, and international commerce."
The ASTM focus related to the playground industry is "to reduce life-threatening and debilitating injuries." The ASTM draws on many safety experts to assist in the development of their safety standards. Although the standards are voluntary, most manufacturers, builders, and playground owners abide by them. In some states, California, Texas, Connecticut for example, it has become mandatory for all public playgrounds to meet CPSC and ASTM playground safety standards. The trend could lead to more states following suit.
The automobile industry is a good example of what can happen when standards are made mandatory. Every state in the nation has adopted some kind of seat belt/car seat law. Some are more stringent than others. Although their use has become mandatory, many people continue to question their necessity and some still do not use them. But, non-users are aware that seat belts exist and they are aware of the consequences involved in their decision not to use them. Requiring the use of seat belts and car seats was born out of the injury statistics from automobile crashes. According to the American Academy of Pediatrics, car seat use reduces the risk of death for a child in a car accident by 77 percent.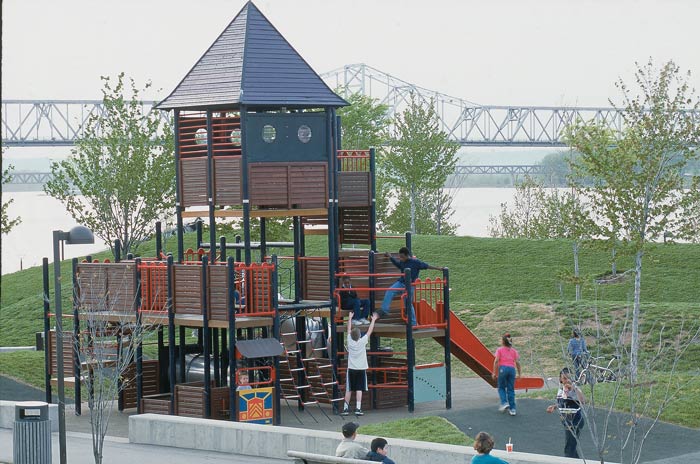 And so it is with playground injury-related statistics that support the increase in playground safety standards. Most websites related to playground safety, childhood safety, or injury prevention mentions the CPSC 1999/2000 report on Playground Injury Statistics. Statistics offered by the American Academy of Pediatrics are familiar to our ears:  
147 playground-related deaths in 10 years
In 1999, there were an estimated 205,850 equipment-related injuries treated in US hospital emergency rooms. Of that number,
156,040 were injuries sustained on public playgrounds; that is…
425 daily injuries in the US on public playgrounds
5-9 year olds or school-aged children had the largest portion of these injuries.
45% of them occurred at schools
31% of them at public parks
53% of them occurred on climbers
79% of these injuries were falls from on public equipment
Have these statistics decreased in the last five years since this report? Many playground professionals would like to know whether their efforts to improve safety at playgrounds are working. At this time the only comparison we have is a similar study done by the CPSC in 1988 and published in 1990. A comparison of the two studies shows an increase in some of the injury percentages and a decrease in others. The CPSC proposes possible changes in equipment styles and increases in after-school and daycare programs as the reason for the lack of a noticeable decrease in overall injuries. See pages 22-25 of the CPSC April 2001, Special Study: Injury and Death Associated with Children and Playground Equipment for more details. 
Most of the playground industry's attention to the ASTM safety standards and playground safety, in general, has occurred in the last 10 years. These changes include entire educational programs run by universities, equipment manufacturers, national trade associations and private enterprise. Subjects taught include safety awareness for children, equipment hazard identification for playground owners and maintenance personnel and training for playground supervisors and parents. Entire certification programs dedicated to specific aspects of playground safety. These are all steps in a worthy direction—improved safety for the users.
Some people may require a new study to reinforce that the safety standards are indeed effective. Others are happy to err on the side of caution; especially where children are concerned, and follow the only nationally recognized playground safety standards our industry has at this time, those by the ASTM. Thankfully, injury statistics begot bicycle helmets, car seats, life preservers, airbags, smoke detectors and let's face it: safer playgrounds. So as the adage goes…"better safe than sorry."