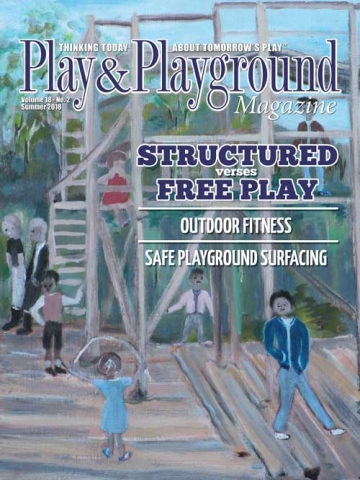 Summer is here, and play takes on a whole new meaning. Kids of all ages find themselves outside more and focused more on fun than work or learning (or at least us adult kids wish we could be). The articles in this issue may cause you to think differently about play, structured and unstructured. You can take a look back at some history as well as into the future of outdoor play.
One of the recent trends in outdoor "play" is obstacle course racing. TV shows such as American Ninja Warrior and Spartan Ultimate Team Challenge have piqued all of our interest. I don't know about you, but I really want to give it a try! Actually, I must confess that I did try the monkey bars at our local park last summer and fell. So much for that. We actually highlight two different outdoor fitness structures in this issue. You can learn how these contribute to your community as well as what each product has to offer. 
As you design and install a playground, you want your surface to be safe. This issue offers some tips on your options as well as important information you need when making that decision. In addition, we have some insight into concerns around recycled rubber. We want to help you gain as much information on the pros and cons of various surfaces so that you can make the best decision for your playground. 
You read much these days about the need to bring calculated risk back to our children's play experience. Many of today's playgrounds recall the adventure playgrounds in the UK after World War II. Our friend Ray Wills has a new book out on the development of those play spaces, and he's written us an article on that history.
Over the past year, we've been telling you how we are growing Play & Playground Magazine and our website. We are taking another step in that direction this summer by renewing our partnership with the National Playground Contractors Association, Inc. (NPCAI). We've been meeting with the NPCAI board over the past few months to plan how we can work together. Over the summer you may start to see the results of this work on our website, in both the directory listings and in content.