A single bead of sweat rolls off my cheek and I watch it as it drops to the well-padded safety mat 20 feet below. An inner voice guides my decision of which movement should follow. Where should I place my hand next? Can I reach that hold? Will my toes hold my weight while I shift my hand? These are not the type of decisions that usually fill my regular Monday afternoon, but I try to stay focused purely on the task at hand. Instead that inner voice keeps repeating climber Evan Hardin's old hack, the one that says, "Good judgment comes from experience, and experience comes from bad judgment." Yeah, that's right. I remember that I'm on belay as I hang here, and I'm glad.  
I seem to be aware of my every muscle.  "What comes next?" I almost whisper to myself. "Maybe that hold up just above and to my left."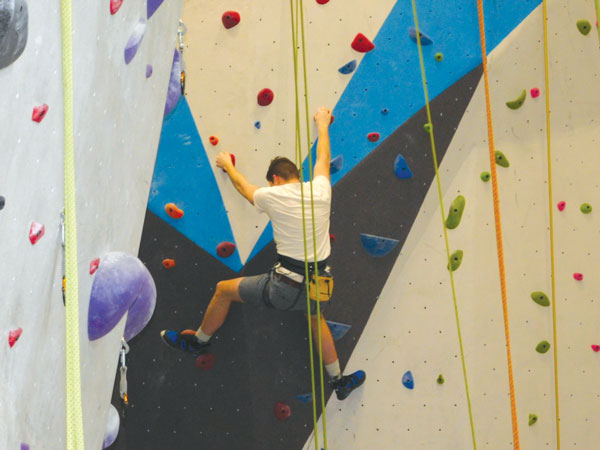 I've scrambled up this wall without hesitation or second thoughts but I am not finished yet. I see two options — a break to the left with a grip jutting horizontal and seemingly just out of reach or a grip offset vertically and directly above me to the right. I feel the burn in my muscles at this point and I let my body tell me my next move. I reach for the left grip which seems more of a challenge to execute as I push off the wall with my lower body,  done with a swift and desperate well-timed reach.
"Got it!" I again whisper subconsciously as I find a new and comforting support to shift weight onto my right leg. 
This is when it dawns on me.
I am having a blast!
Outside The Edge in the parking lot 3 foot high piles of snow and ice surround the property and patchy ice covers the blacktop. A bitter breeze whips snowdust around the parking lot. Winters in East Idaho can be long and cold and this one, even in mid February. 2017 is one for the record books. This could be a big factor helping to cause such a buzz around town for the grand opening of Idaho's largest and newest indoor climbing gym. Since the announcement of construction for The Edge Climbing Gym over a year ago,  residents of Ammon, especially rock climbers, have been anxiously awaiting their first ascent up the summer-warm face of this massive indoor climbing wall. Ammon is a small but active community that lives snugly in the valley shadowed by the mighty Teton Mountain range just east of Idaho Falls. Rock climbing is a mainstay of the active lifestyle of this area, and having this amazing, ever changing, sheer face to scale will double the year round climb-time.
The Edge Climbing and Fitness is just getting started, but bringing this project together was no easy task. A private owner acquired the massive climbing walls from Jackson Hole's only climbing gym, which closed in 2014. The climbing wall was disassembled and moved 85 miles by semi-trailer on a twisting mountain road to its new home in Ammon. The owner's vision was not only to provide a larger climbing facility than was available in Jackson Hole, but a well-rounded, full service gym as well, all under one very big and very high roof. The open space of the building provides the space and height necessary to create a second floor workout area that overlooks the entire gym and over 18,000 square feet of climbing wall.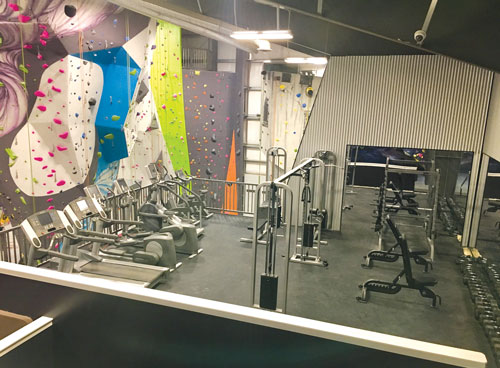 The Edge has a complete line-up of exercise equipment, including free weights, and a large area dedicated to children. With the additional option of cutting-edge, automatic belays, The Edge is an entirely different kind of year-round, full-spectrum indoor climbing and fitness destination.
Having lived and played in the Idaho Falls area for more than 8 years, I can attest to the excitement and anticipation among the locals, especially the climbers, and it is well-founded excitement. Sure, there are other gyms, and pools can be found that feature indoor shelter and warmth from the brutal winter. One may even find larger gyms with rows and rows of treadmills and elliptical machines, but this gym is different. The climbing gym may not be a new idea, and larger urban areas around the US are sure to have big indoor facilities too, but for our area this is big news. All across the US, we have seen a trend toward fitness resulting in an ever-expanding idea of what a gym is, or could be.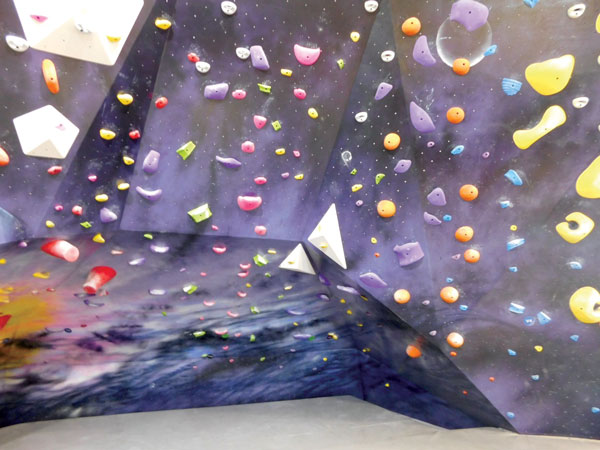 Many think of climbing as an outdoor sport that requires expensive gear, extreme know-how, life-threatening exposure, and certain risk — all those things that prevented me from becoming an avid climber. But here at The Edge, this is changing. I can experience that same rush, get a small taste of the primal fear intrinsic to sheer-face free climbing, but safely, among a group of well-trained and talented athletes. All the while being warm, dry, and in a completely controlled environment.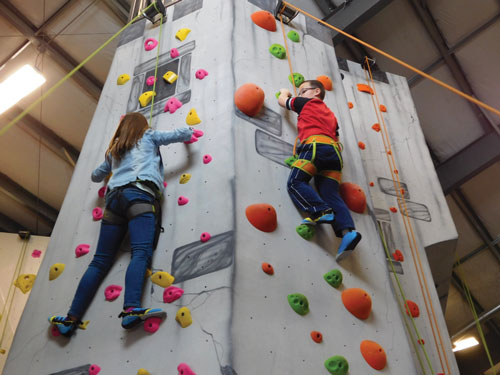 So there I am, still clinging to that left hand grip, resting on my right leg toe-hold, really feeling the burn now, and now, twenty-four feet up The Wall, now I think that if I miss the next grip and fall, the automatic belay will catch and hold, and I can rest for a minute as I swing from the rope and plan my reset onto the wall. I think for a minute how good that will feel – to swing and relax, just for a minute. But honestly, a big part of the fun here is the desire to beat this wall and the hard work of trying to do it. So no, I'm not going to give in, and I look around, above and to the sides, to find the next grip. My left hand is getting tired and sweaty and I know I've got to switch my holds to give my hand a brief rest. And then – there it is! A 10-foot path of three grips and two foot holds, taking me to the 40-foot level and the top just a little further on. "Yeah! That's what I'm looking for!" I plan the initial move – push off with my right leg and use some friction with my raised left foot to get a little extra motion. A quick, hard pull with my left hand and I'll have my right onto the first grip. "OK", I say to myself, "this'll work."  I fix my eyes on the next right-hand grip, about two feet beyond my reach, pull my strength together for the push….
"OK" I say to myself again, "One, Two, Three and GO . . . !"
Gyms are changing, and with it, my desire to experience the real outdoor version. But for now, The Edge climbing gym will be my launching pad into a whole new type of adventure as I have lots to learn about this sport and hobby. Plus, I would be crazy to be climbing in the frigid tundra that Eastern Idaho has become this time of year! I hope the ice climbers are reading this!
The Play and Playground Magazine would like to wish our editor Aaron Hamilton luck as he pursues a new path in his career. Thank you for your contribution to the legacy of this publication!